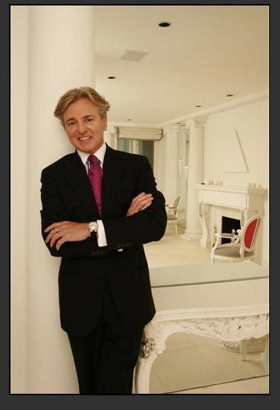 Design icon and South African born Geoffrey Bradfield specializes in creating opulent, elegant and serene interiors. His signature style is the use of Contemporary Art. "Functional Opulence" is the key to his designs, which draw inspiration from the Orient, African Primitivism, and Art Deco. His work incorporates fine art and antiques with modern materials and high tech accessories, attaching the same sculptural value to utility objects as to important pieces of art. Geoffrey Bradfield's projects list is impressive. Among this roster of projects is the major design overhaul of the Gertrude Vanderbilt Whitney estate in Old Westbury, Long Island and the restoration of the late King Hussein's mansion in Maryland. The New York-based designer has received several times the coveted recognition by Architectural Digest in their "AD 100″ as one of the top designers in the world. Before the interview I read that Geoffrey Bradfield is funny, sophisticated and down to Earth. I agree with this. Enjoy the conversation. I sure did!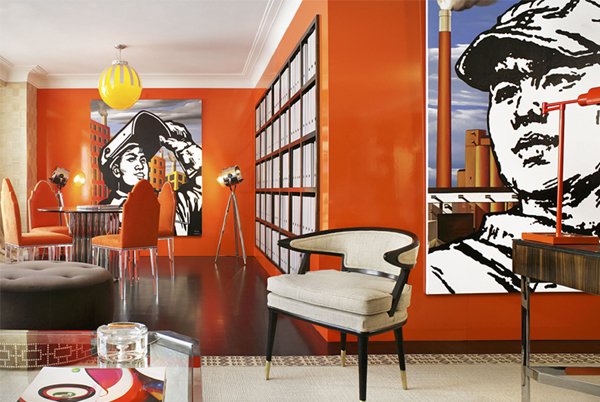 image credit: Geoffrey Bradfield Inc, photographer: Peter Rymwid
How would you describe your own style?
If in two words: "Functional opulence."  Having said that, I am a Modernist and the use of Contemporary Art is a significant ingredient in my signature style.
When you were a child and grew up on a South African farm, did you want to become a designer?
I never doubted my choice of career.  I never experienced a Saul of Tarsus conversion on the way to Damascus.  I always knew intuitively what I wanted to do.
How did you get your first assignment?
My first major assignment was in Johannesburg.  I did the apartment of the Impresario, Pieter Toerien. He was my first celebrity client – I was 23 years old and it garnered me a lot of attention. Of course, everything is relative and I was swimming in a very small pond.
Is there a designer that has influenced you?
Past would be Le Corbousier, whom I consider to be the most important influence on my early career.  Latterly, I have been very inspired by the world of artists.  Great artists have always influenced and inspired my work.  I admire their ability to look at the world from fresh and daring perspectives.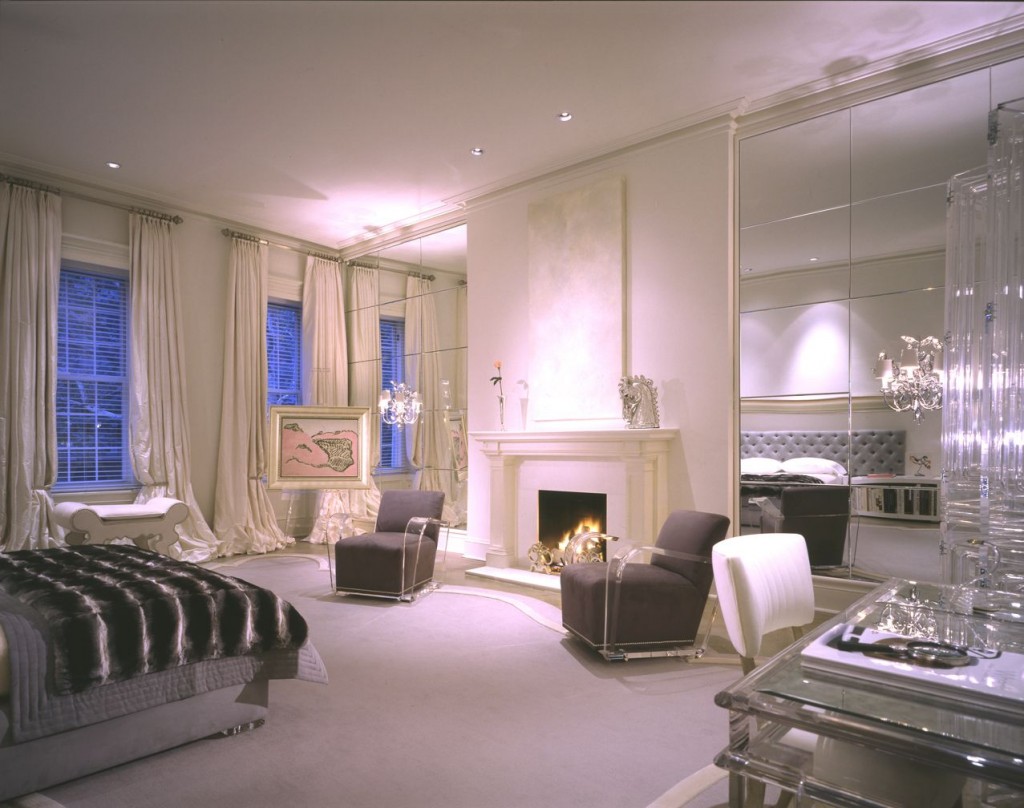 image credit: Geoffrey Bradfield Inc, photographer: H. Durston Saylor
What do you enjoy most in your work?
I love the creative process.  The lot of an artist can be rather fleeting at times.  It's not a bad fate, as long as you are what you have created.  If one's work has resonance, it will outlive us.
When I look at your interiors I see opulent spaces but I also feel a sense of serenity. How do you achieve this?
I seek serenity in all my interiors. In addition to a disciplined and edited color palette, I think that art brings a lot of that signature to it. I mean we're not talking great Picassos that are representing the Spanish wars, but art really can introduce a serene presence.
What do you consider to be your greatest achievement?
That I'm still sane!
What inspires your designs?
To some extent, the Art Moderne period of the 1940s. But, it does go far beyond that. I am 90% visual.  My visual curiosity and photographic recall affords me an endless inventory of rich ideas to draw on.  I am also very intrigued with the advent of technology.
What is your idea what a beautiful home should feel like?
There are many things every home must have, but in the end, I think we all agree the basic requirement is probably comfort.  I identify with Billy Baldwin's quote in the New York Times toward the end of his life:  "lately I have been thinking how comfort is perhaps the ultimate luxury."  I believe this says it all.
image credit: Geoffrey Bradfield Inc, photographer: H. Durston Saylor
Favorite books?
Essence of Style by Joan de Jean
The Principles of Aesthetics by Francesco Borromini
Home: A Short History of an Idea by Witold Rybczynski
What does success mean to you?
Success is so relative. Any designer who is passionate about what he does and has a strong point of view is mindful of creating a legacy.  But when one has been fortunate enough to be recognized for one's work, you like to feel not only that you are leaving a footprint, but also that you are giving back.
What's your advice to upcoming designers?
You have to be able to sell yourself and your talent. It's amazing how important a personality is.  I also value honesty and frankness in an interview.  I never intentionally hire down… I like to be challenged by my team.
My signature Design Element question – what are the most important design elements?
Scale, balance, innovation, joy.
Kommentare