"Learn to look not just with your eyes but with your heart. The truth is that style and taste are all relative. It is not a question whether or not someone has good taste. It is how something feels to the individual…Open your heart and mind to the world, and find the things that connect with you. How else will you know how to design your home?"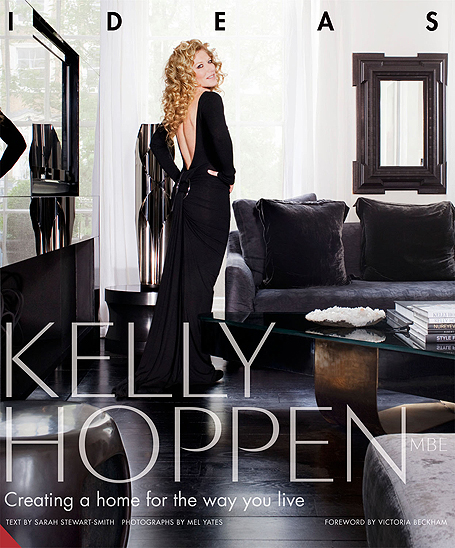 photo: amazon
Kelly Hoppen is simply unstoppable. The South African born British designer has achieved iconic status designing houses, hotels, yachts and jets. Kelly has her own collection of paint, fabrics, rugs and ceramics. The Queen of Taupe is also an author of 7 design books. Her new book "Ideas: Creating a home for the way you live" (published yesterday in the UK!) is about the creative process involved in turning a concept into reality. The key theme is to find the look you love and also to create a spiritual experience. The book will be released in the US at the end of March. The title of the US edition is Kelly Hoppen Interiors: Inspiration and Design Solution for Stylish, Comfortable Interiors. Interesting to know: Kelly has a design school, a blog and even an app. She is a fan of Picasso, Zaha Hadid and Jamie Oliver.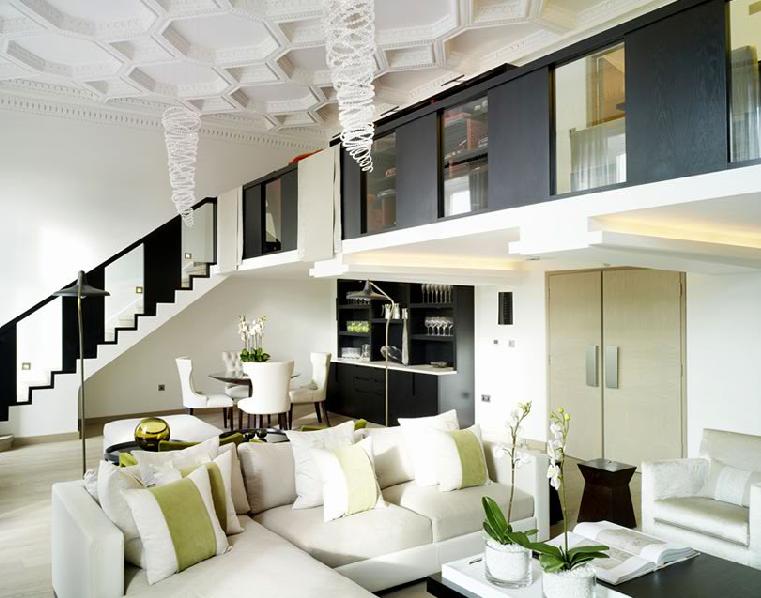 photo: Kelly Hoppen
How would you categorize your own personal style?
Timeless elegance with a twist.
What needs a designer in order to be successful?
A good creative eye, talent and a strong team or business head.
When did you know that you would tie your life with interior design?
I was fascinated by interiors at a young age, I used to ask my mother to take me to show houses every weekend! I loved looking around the different style, seeing how the spaces had been designed etc. I would then return home and rearrange the furniture in our house to make everything look at its best.
How did you get your first assignment?
My first assignments was for a friend of my father, he asked me to design his kitchen and my business started from there. I was 16 1/2 years old.
Is it different to design for high-profile clients?
Not really, at the end of the day you are designing someone's home so people will always want it to be perfectly suited to them, whether they are spending £1m or £150, it is all relative.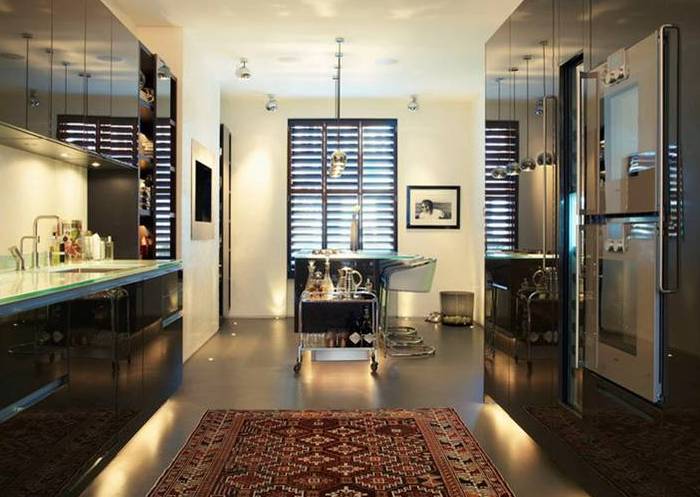 photo: Kelly Hoppen
Are great designers born or made?
I think a little bit of both, you have to have creativity, the functionality can be learnt.
How do you transform the ordinary into the extraordinary?
With good project planning, taking time to source your star pieces, adding your mark to the space.
How do you evoke emotion in a room?
Lighting is a great way of adding emotion to a room, it makes all of the difference. Soft low level lighting creates a snug or sexy feeling in a room where as harsh over head lights make a space feel uninviting and clinical.
How do you define elegance?
A style that stands the test if time, like Audrey Hepburn or Marilyn Monroe.
What is your idea what the perfect home should feel like?
The perfect home should feel like your safe haven, the place that you go to run away from the pressures of the world, you enter it and you feel safe, secure and loved.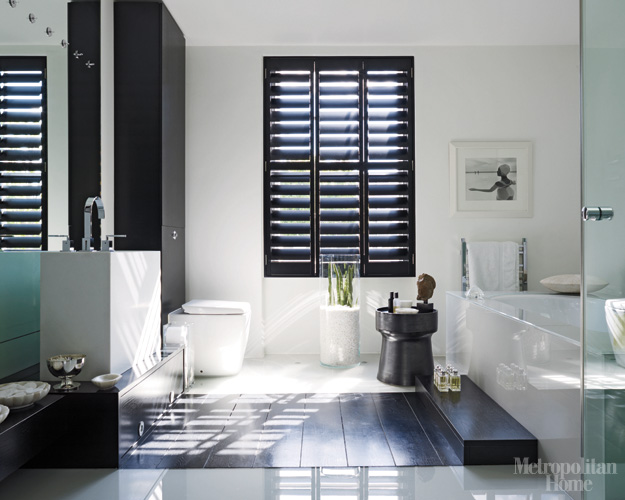 photo:  David Garcia for Metropolitan Home via Elle Decor
Why would you prefer a neutral color scheme in a room?
Neutral colours work so well as a base as it keeps an interior looking fresh and styled without appearing dated. You can then use colour to accent or highlight using star pieces of furniture, accessories or art.
What books are you currently reading?
I like to read business books or spiritual books, Synchro Destiny by Deepak Chopra changed my life!
Where in London do you go to be inspired?
I love to wander around Notting Hill, visit the market, sit and have a coffee at a street cafe, just generally chill out.
What does success mean to you?
Expanding my design skills into other areas, learning new mediums.
My signature Design Element question – what are the most important design elements?
Planning, Balance, Texture and Taupe!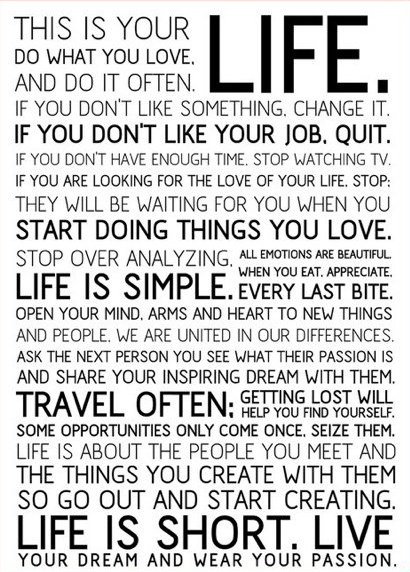 "When everything that is placed in a room shares some connection—a common thread—something happens. There is a sweet spot where composition, balance, color and form come together."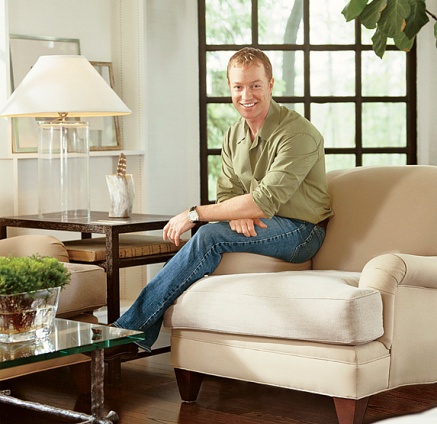 Stephen Knollenberg established an interior design firm in his own name in 2002. Some years later he has been named to Architectural Digest list of top 100 interior designers and architects in the world. Whether contemporary or traditional his interiors are serene, classic and timeless. They draw me in to look at the subtle layers of detail…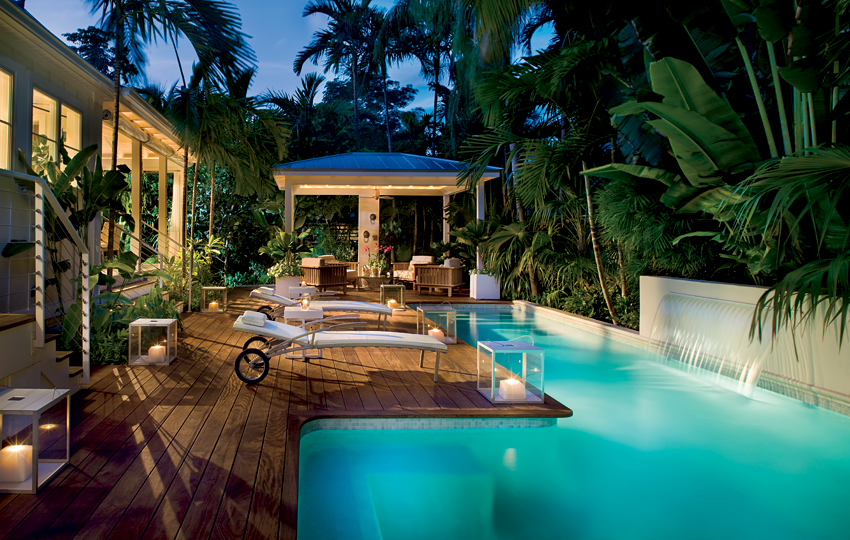 image courtesy: Stephen Knollenberg & Architectural Digest via extra interios
How would you categorize your own personal style?
Edited…..clean……..with a mix of the old and the new.  I look to design not just 'rooms', but environments.  In them, I'd like people to feel inspired, but comfortable.  I'm definitely tuned in to how a space feels and not just to the way that it looks.  The eye sees and then the brain elicits emotions.
What are the early influences that led you towards design?
I grew up in a rather clever mid-century house and my mother liked early American antiques.  I think these disparate elements had a great influence on me.  It challenged and broadened my tastes.
What does a designer need in order to be successful?
That depends upon how you define success. I recently read that John Fowler, of the British decorating firm Colefax and Fowler, was terrible in business but obviously a very talented man.  More and more, I see that talent alone is not a guarantee of overall success.  If you combine it with a certain amount of business acumen however, great things can happen.
Finish this sentence:  Creating a room is like………
……….Creating a great dish.  It's a little of this and a little of that until it's perfect.  Funny, I have very little patience in the kitchen, but I care a lot about how the table looks……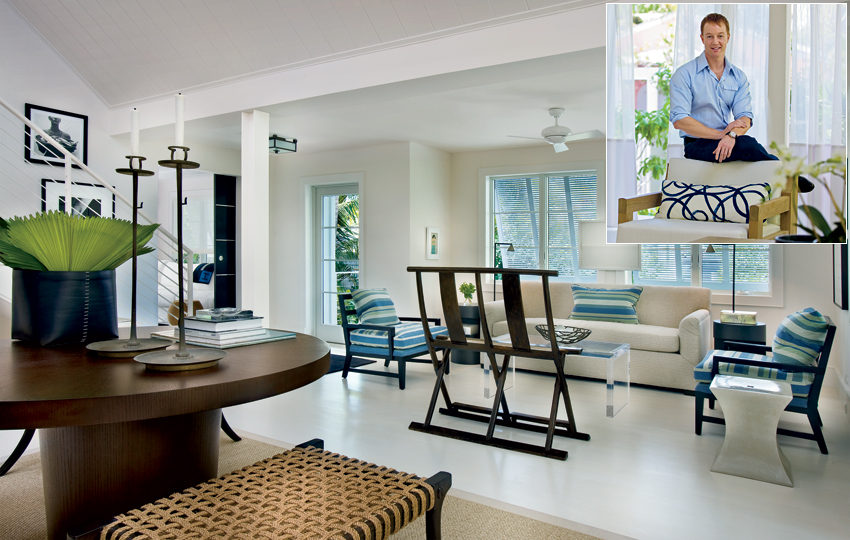 image courtesy: Stephen Knollenberg & Architectural Digest via extra interios
What is your idea of what the perfect home should feel like?
Balanced and serene.
Which design project have you been most proud of?
There isn't just one.  I'm most pleased when a client tells me they love living in a space I've created for them.
What inspires you?
Beauty.  It tugs at the soul a little bit for me.  It can be the woods or the water, a textile or a work of art………or the wonderful lines of a building or a chair.
What is your current state of mind?
Grateful.  I have learned in my life, metaphorically, to go with the river and not against it.  If you allow it to, it generally takes you exactly where you need to go.
What books are you currently reading?
Phillips de Pury has recently sent me their bounty of auction catalogs.  Many trees had to die for them, but they are wonderful to read through.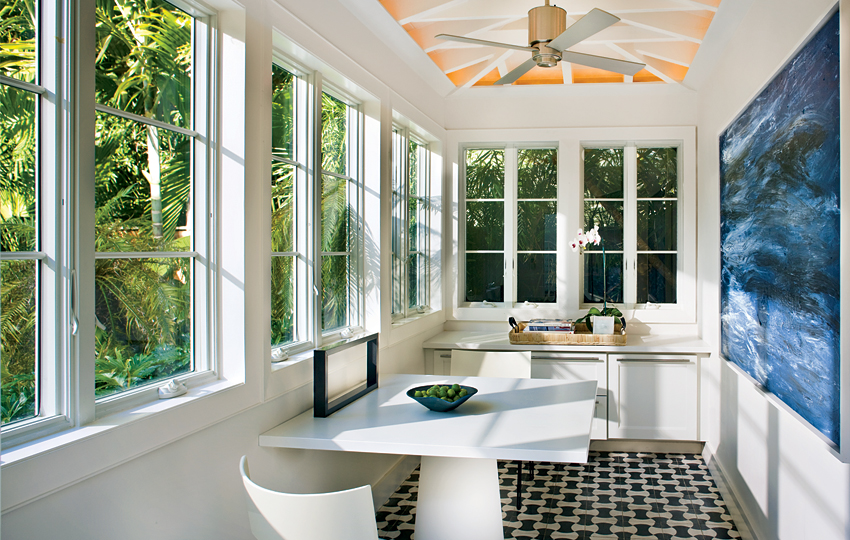 image courtesy: Stephen Knollenberg & Architectural Digest via extra interios
What do you consider to be your greatest achievement?
My weekend home near Lake Michigan.  It's been a labor of love for more than ten years and it grounds and inspires me every time I walk in the door.
What do you like to spend money on?
Things……..I love beautiful things (to keep or to sell).  I also love to travel to find beautiful things………!
What was the last piece you bought for your home?
A contemporary sculpture by German artist, Wolfram Niessen.  It was done in the 1970's and is made of bronze and a slab of clear acrylic.  It's quite heavy and powerful but virtually see-through ……….an interesting mix of elements.
What do you find fascinating?
What makes certain art and antiques become collectible and valuable.  That two works of art from the same artist can escalate in value very differently I also find interesting.  An artist's work, like fashion, suddenly becomes desirable: Why?
Your favorite quotation…….
Optimism takes the chance of losing; pessimism loses the chance of gaining.
What does success mean to you?
Accomplishing your goals and feeling good about the journey.
Ein phantasievolles Kinderzimmer – zwar nicht bunt wie üblich aber dafür sehr stylish…
A stylish space for sleep and play…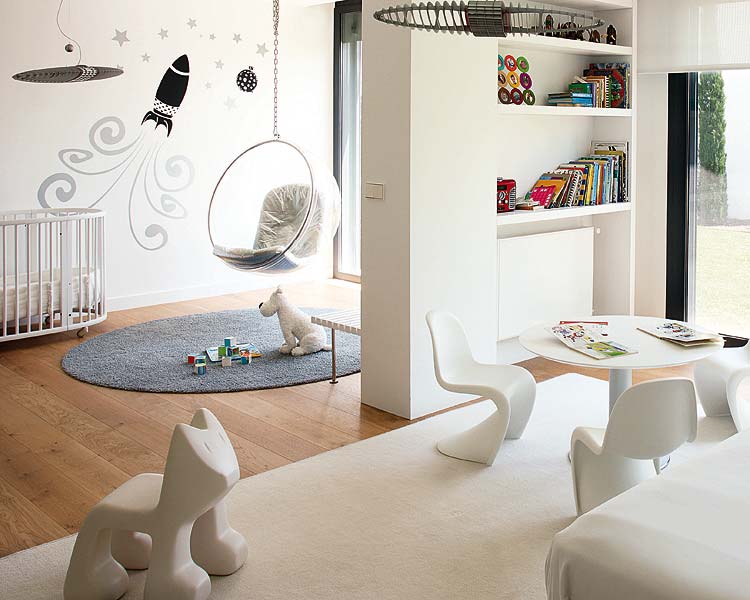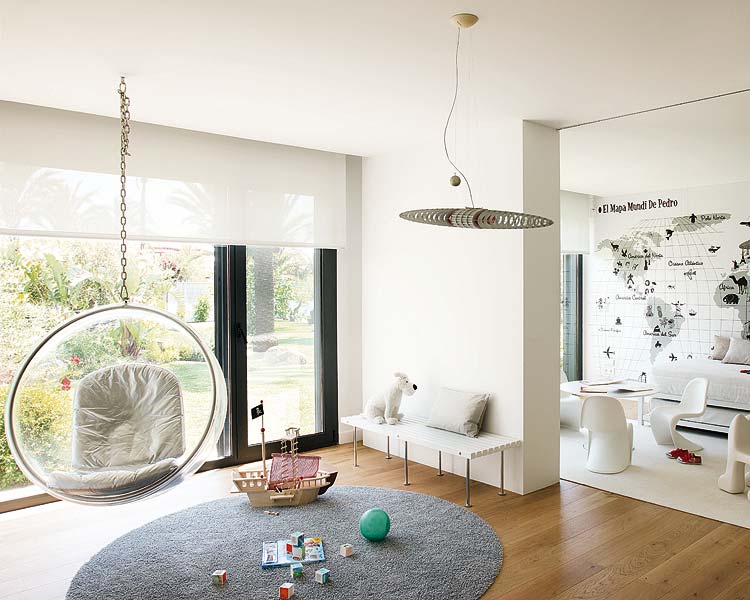 via Mi casa revista
"Style is not merely a method or theme but the intrinsic and instinctive manifestation of the makers spirit and nature."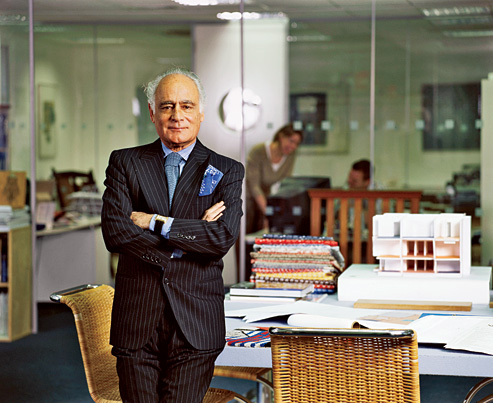 John Stefanidis is acknowledged as one of the world's leading interior designers. If there is such a thing as a John Stefanidis "look" it would combine a bold and original use of vibrant color, an eclectic and cosmopolitan aesthetic and, above all, great comfort with style. Born in pre-war Alexandria and educated in Egypt, John moved to the UK to study at Oxford University. After several years in advertising both in London and Milan he began a career in interior design after he renovated a 16th century house on the Greek island of Patmos. In 1967 he established an interior design practice in London. John Stefanidis Brands Limited specialises in the architectural and interior design of both residential properties and hotels across the globe. In the course of designing the interiors of his clients' houses, John has also created original fabric and furniture ranges which have been influenced by his many travels and his renowned eye for ergonomic design and bold colors. He is also author of 4 books. Reading his book "An Island Sanctuary: A House in Greece" some months ago I 'd actually felt the breezes blowing through the pages.
How would you describe your own style?
Modern Classicism.
You began a career in advertising first. How did you decide to become a designer?
After leaving Oxford University I worked for CVP (Coleman, Prentice & Varley) advertising agency;  first in London then in Milan.  This taught me about deadlines, efficiency and how to delegate.  Italy also improved my eye and helped me not only to look but to see.  During a holiday in Greece I visited Patmos and so began my career in interior design as friends, some from my Oxford days, bought houses on the island and asked me to restore and upgrade them.  When I returned to London in 1967 I knew I could design and a series of design commissions established my career in interior design.
Is there a designer that has influenced you?
There are no better proportions than those of ancient Greece and designers return to them time-and-time again – the influence of which can be seen in the work of Palladio and Schinkel.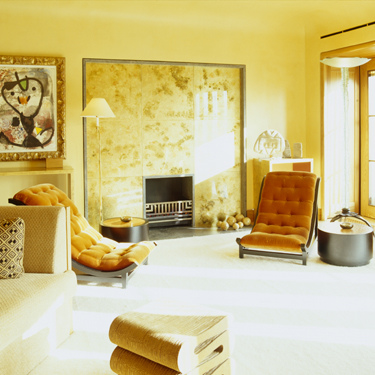 What do you enjoy most in your work?
The endless variation and possibilities.
Which project have you been most proud of?
It is very difficult to choose between a house in Colorado and a 'yali' bang on the Bosphorus in Istanbul.
What do you consider to be your greatest achievement?
To have created designs which are still as relevant today as when I first developed them.  My Cloud Tables in brass or chrome have not dated and are still in great demand.
What inspires your creativity?
Travel trains the eye to develop a renew a visual vocabulary, this,  and a discerning eye have been a great source of inspiration.
What is your idea of what a beautiful home should feel like?
Maximum luxury in simple surroundings, not grand surroundings with little luxury.
I've read all of your books. 'An Island Sanctuary: A House in Greece' is my favourite.  You designed your house on the island of Patmos in the Dodecanese with such bold simplicity and allure.  How do you achieve this?
Practice, experience, skill and constant refinement over time.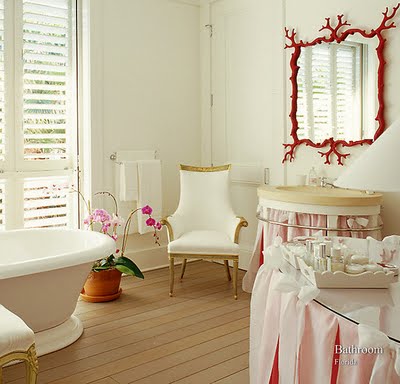 What is your advice to upcoming designers?
It is often argued that possessing an eye is a gift.  Whatever the talent is has to be acknowledged, nurtured and trained.  Sensibility must be cultivated, questioned, defined and revised to avoid atrophy. Keep to 'drop dead' dates and pay attention to detail.
What does success mean to you?
My work is very gratifying and I enjoy meeting new clients from all over the world.
My Signature Design Elements question – what are the most important design elements?
My design watchwords are light and colour, comfort and practicality, beauty and elegance, conviviality and seduction and, of course, classicism with a touch of the eclectic.
In my profession, rooms may have to be stripped, reassembled or reinvented depending on the type of building – old or new, rustic or urban, by the sea or in the hills.  All this and more must be taken into account and last, but not least, the wishes, aspirations and fantasies (both known and unknown) of the future occupants carefully considered.
photo credit: John Stefanidis Brands Limited and desire to inspire