"Follow your heart not fashion or public opinion… Don't be scared to be an individual!"
Martyn Lawrence-Bullard
Do you know who won the Andrew Martin award in 2010 – the award described by the Times as "The Oscars for the interior design world"? The answer is Martyn Lawrence-Bullard.  Eclectic, luxurious, sophisticated, comfortable, fearless in mixing up different styles … all are words that come to mind when asked about Martyn's designs. Martyn Lawrence-Bullard is one of the world's top 100 interior designers by Architectural Digest. His work has appeared in over 700 publications worldwide. His clientele includes Tommy Hilfiger, Cher, Edward Norton, Aaron Sorkin, Christina Aguilera, Eva Mendes, Ellen Pompeo, Kid Rock and the Osbournes, among others. Martyn loves the earthy exotic furniture of Brazilian architect  Oscar Niemeyer and the color combinations of deep red and chocolate, and olive and eggplant. For more info on Martyn Lawrence-Bullard click here to read his profile on 1st Dibs. So let's get on with it…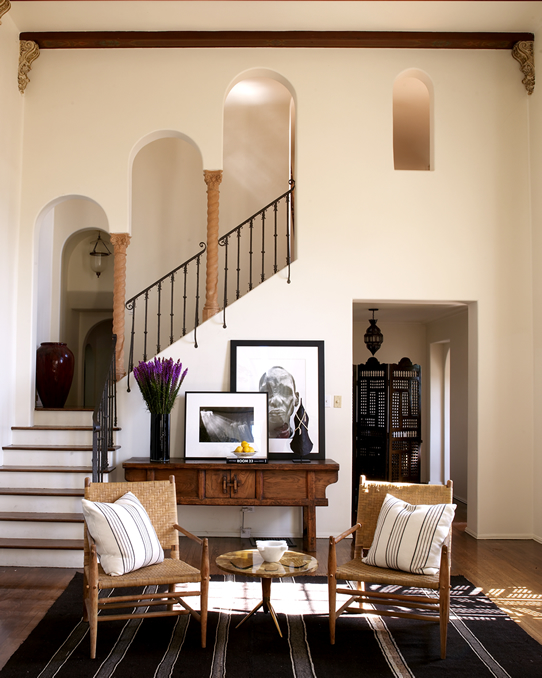 How would you describe your own style?
My style is totally eclectic. I love so many styles and periods, like Oscar Wilde said " all beautiful things belong to the same age"…
When you were a child, did you want to become a designer?
As a child I wanted to follow in my fathers' foot steps and become an actor, although I always loved interiors and would make my parents take me to visit the most beautiful stately homes, castles and museums around the world.
How did you get your first assignment?
I got my first job when a producer from a film I was in came to dinner at my then small home and loved it so he asked me to design his offices, the Hollywood film works. I did so for fun and ended up becoming my career.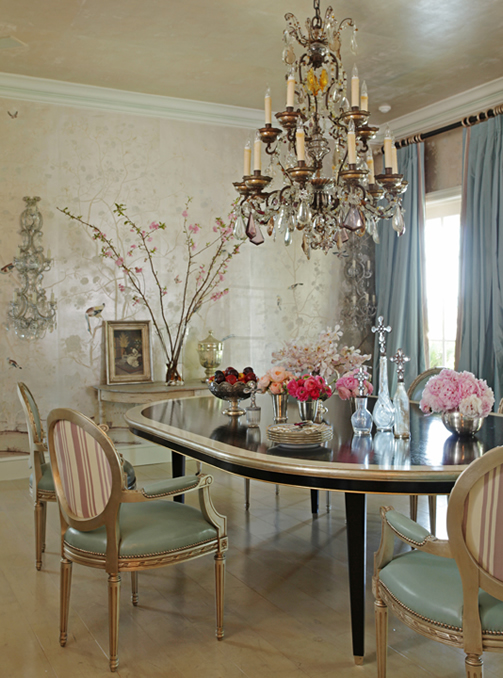 Is there a designer that has influenced you?
I love the work of David Hicks… He has been an inspiration to me especially in the way he used color and mixed periods and styles. Also Renzo Mongiardino – his work was so chic and almost fantasy.
Are great designers born or made?
Great designer are born… It's something innate not learned. A sense of style seems to me to be a gift you are born with, just like a singer, you are born with the tools and you refine them with age.
What do you enjoy most in your work?
I enjoy the joy my clients get from the finished product … making their decorative dreams come true!
Which project have you been most proud of?
I am always most proud of the last project I completed…. Currently that's Sir Elton John's home.
What do you consider to be your greatest achievement?
My greatest achievement has been the ability to stay so busy during this recession. My business has actually doubled. I've been very lucky.
What inspires your creativity?
Diversity.
What is your idea what a beautiful home should feel like?
A beautiful room is a comfortable room. Somewhere that you just want to curl up in.
You said: "The one rule I've always stuck to is to be honest. There's no point in creating a decorative scheme on or around something you don't believe in. To be a straight shooter is always the best policy." Are you always a straight shooter?
I am always honest with my clients… Honesty is the only policy!
Favorite books?
The marchesa di cassati… Windsor style… The private lives of Yves St Laurent and Pierre Berge and Rooms to inspire by Annie Kelly.
What does success mean to you?
Success is happiness and contentment. To wake up every day and know you love what you do. That's happiness!
What's your advice to upcoming designers?
Follow your heart not fashion or public opinion… Don't be scared to be an individual!
My signature Design Elements question – what are the most important design elements?
To me scale is the most important design element to a room. Perfect scale is actually very hard to achieve and is the signature of a seasoned decorator.
photo credit: Martyn Lawrence-Bullard Design
Kommentare