Recently I had the pleasure to have a cyber sit down with Maud Ferrand – Paris born interior designer living in Singapore with a talent for making the ordinary extraordinary! Maud's passion for design was nurtured during her years in New York where she interned with Yves Saint Laurent while doing a Master Degree in Marketing. Some years later Maud decided to follow her heart and moved into the world of design. Maud's work has been featured in French and Singaporean magazines. She also appeared on French and Singaporean TV for her own homes.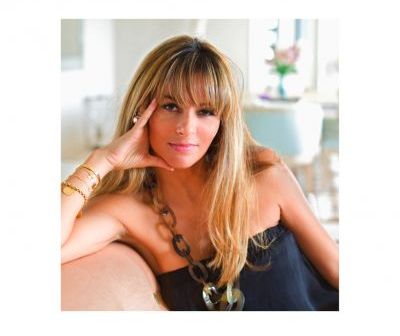 How would you describe your own style?
I like to describe my style as a blend of Contemporary Asian Glamour. I bring together European, in vogue and vintage elements into my designs; the result is timeless.
You began a career in public relations first. How did you decide to become a designer?
My career commenced working very closely with Paloma Picasso in her Accessories Company in New York where I developed skills in fashion, colour, symmetry and balance. From this knowledge and experience, I designed my first apartment in Paris, which consequently appeared on French television: Teva Deco.
Looking back at your first project what decorating knowledge do you wish you had back then designing the interiors?
The sense of scale and more-depth knowledge of architectural planning.
Is there a designer that has influenced you?
Kelly Weastler and Alberto Pinto
Some designers believe that the first piece for any room is the rug or a painting that sets up the colors palette. What is your first source of inspiration?
I am continually inspired by many influences by keeping up to date with the latest fashion trends and expanding my knowledge in global cultures with a particular interest in Asia. Equally, my incentive can be something as simple as a painting or an ornamental piece. I recall some years ago I created a room based solely on a blue turquoise vase from Turkey. The result was that the room looked like an extension of the client's personality.
What is your idea what a beautiful home should feel like?
I believe that whatever the architecture or style of the home; the overall concept should look effortless and chic. As designers in the 21st century we are fortunate to be afforded with a wealth of universal available materials which means our creativity is limitless!
house in Bali designed by Maud Ferrand
What the biggest mistake people make when they decide to decorate their homes without the guidance of a professional designer?
They tend to match everything so the achieved look is very unpersonal. I introduce my clients to new elements; rich textures and fabrics and a blend of contemporary and authentic pieces, which are beyond their normal boundaries. The result is then unexpected.
How do you achieve a good scale? Scale is a really interesting and difficult topic.

Having a good sense of scale wisely is a very valuable tool with ID, but every now again I like to bend the rules and create something, which is unique and quirky.
What do you love to do when you are not designing?
Traveling for inspiration
Your favorite books?
"The Road Less Travelled" by Scott Peck.
What does success mean to you?
My two children.
My signature Design Elements question – what are the most important design elements?
Humor and Drama, exquisite fabrics and art pieces and the confidence to introduce detailing which is totally outside a clients' comfort zone.
Kommentare