It is my pleasure to introduce David Hicks – one of Australia's leading interior designers. Enjoy the conversation and David's extraordinary creations.
How would you describe your own style?
I describe my style as modern luxury. I am heavily influenced by the modernists for my architectural work and detailing and love a bit of luxury. So I often combine the two in my work. My architectural style is very minimal and streamlined with using a currated palette of finishes, I then layer onto this the decorative. My decorative style is very eclectic yet considered. I use pieces from different periods and cultures and love to mix and match. This is a contrast to the architectural bones of my spaces but I make it work in harmony.

What inspired you to get into design?
Ever since I was a young child I loved design. I used to make little houses in the garden out of sticks and landscape around them, driving my toy cars into the minaiture properties. I loved James Bond movies and the sets they used to design. I think it was just in my blood really. I always wanted to be an architect but decided on interiors due to the quicker change over on projects. I think I would get too bored working on a building for years and years.

Looking back at your first project what decorating knowledge do you wish you had back then designing the interiors?
My first project was very minimal. It was all white and black and very modernist. Some would consider it not to be decorative but I did. I was decorative in the sheer expanse of simple materials used. The materials became the decoration and the precisely placed modern furniture. I suppose if I had more of an insight, as I do now, into decoration the space may have been a bit softer, but having said that it is one of my favourite projects.
Is there a designer that has influenced you?
I am going to say what most architects say, Mies van der Rohe. I love his work. I am also influenced by Lautner and Neutra and the Los Angeles modernism. I am influenced by people in fashion such as Tom Ford and from movies. As mentioned before I have been hugely influenced by the sets of the old James Bond movies.

Some designers believe that the first piece for any room is the rug or a painting that sets up the colors palette. What is your first source of inspiration?
This changes from project to project. I generally do not start with any one thing. The palette seems to just build up by itself. I am primarily more concerned with the bones of a space. This then allows for beautiful decoration. Once the materials of the space have been defined I then look at the decorative. This usually starts with a loose theme and is built up from there. Paintings, rugs, furniture upholstery and furniture itself are really layered to create a whole. I do not start with just one thing.

How do you achieve a good scale?  Scale is a really interesting and difficult topic.
Scale is very important in design. It is what we as human beings relate to in a space. It is also what can make a space feel comfortable or uncomfortable. I often play with scale to create a bit of personality to a space. This come naturally to me and works most times. I do not labour over the size of things, rather trust my instincts and just go with it.
What do you love to do when you are not designing?
I love travelling. This is what really inspires me and feeds me. I like food, good wine and googling anything and everything on the Internet. Google is such an amazing thing. I can spend hours and hours on google.

Who are your favorite artists?
My favourite artists would have to be Meadmore, Australian working in America, for his amazing bronze sculptures; Dale Frank, Australian, for his amazing use of color; Curtis Jere, an American artist, for his now vintage creations and Charles Hollis Jones, another American for his work in lucite.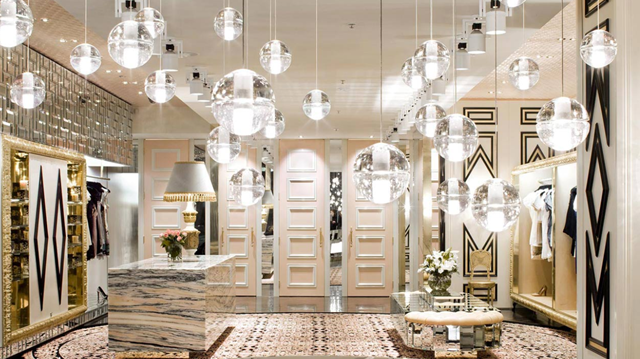 Your favorite books?
You know it's terrible, I do not tend to read much. I am a visual person and love picture books. I do not really have a favourite as I love most picture based books. If I had to say I really like books on Helmut Newton photography and Mies van der Rohe architecture.


What does success mean to you?
Success is what you make it. I am always striving for success. I think most designers are subconsciously. It is the art of trying to be better and better and better. This is what drives me, the desire to perfect my craft. To make money doing this is success.

My signature Design Elements question – what are the most important design elements?
The most important design elements are space and materials. If the architectural space is not beautiful then the decoration will not be successful. Detail and how the space is put together is very important to me.
photos: David Hicks
Kommentare