"Invest in yourself through spending on life experiences more than stuff."
Chris Guillebeau, "The Art of Non-Conformity"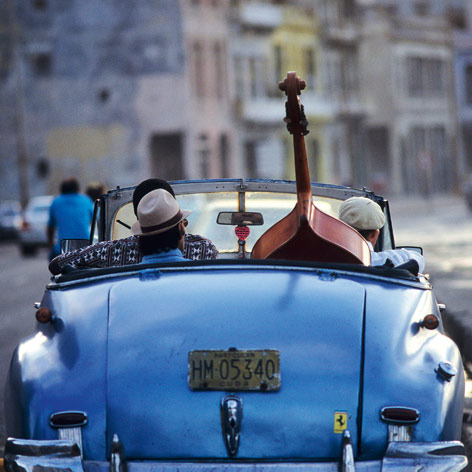 photo: via bippity boppity boo

Ein Sommerhaus auf Formentera – die kleinste und die ruhigste Insel der Balearen. Design: Nacho Alonso & Bill Wright.
A summer house on Formentera, one of the Balearic islands in the Mediterranean sea. Design: Nacho Alonso & Bill Wright.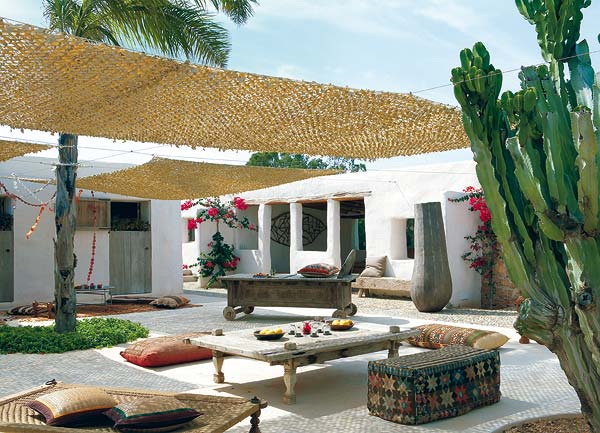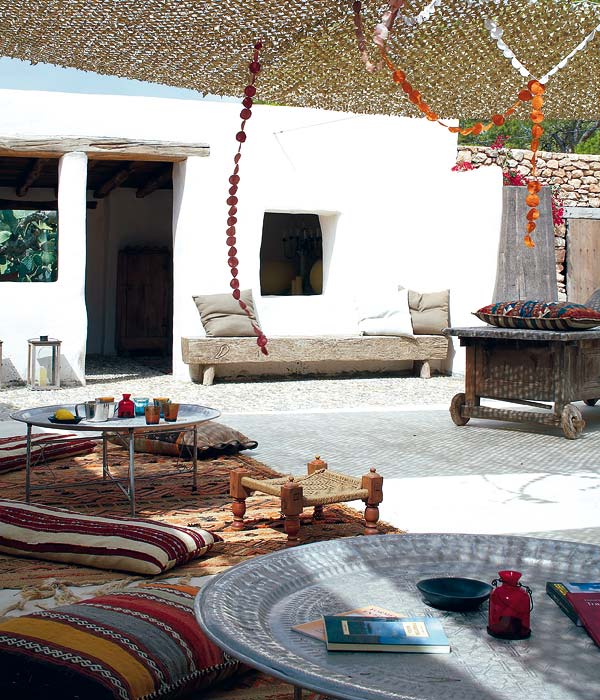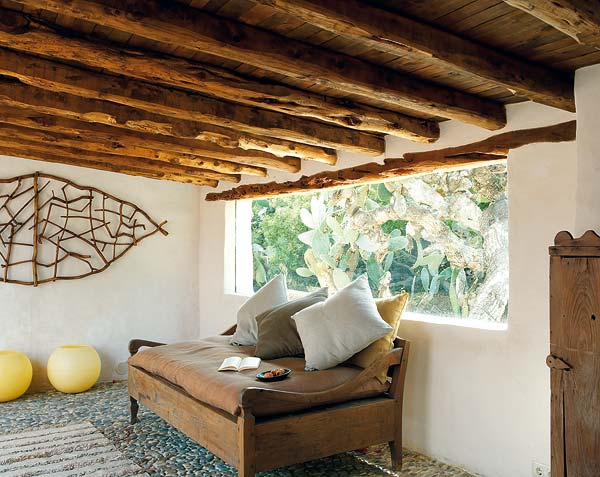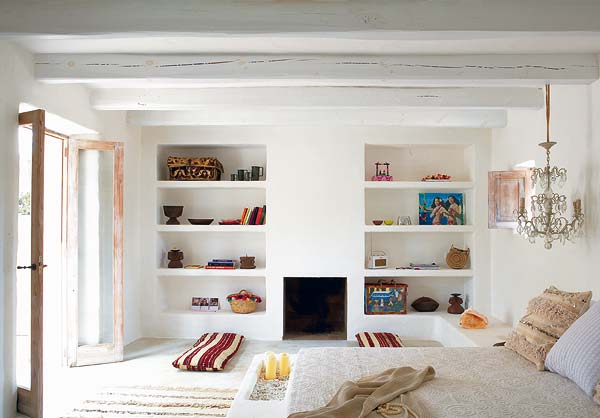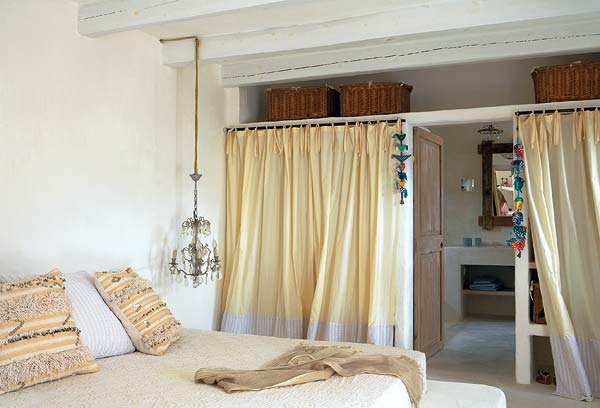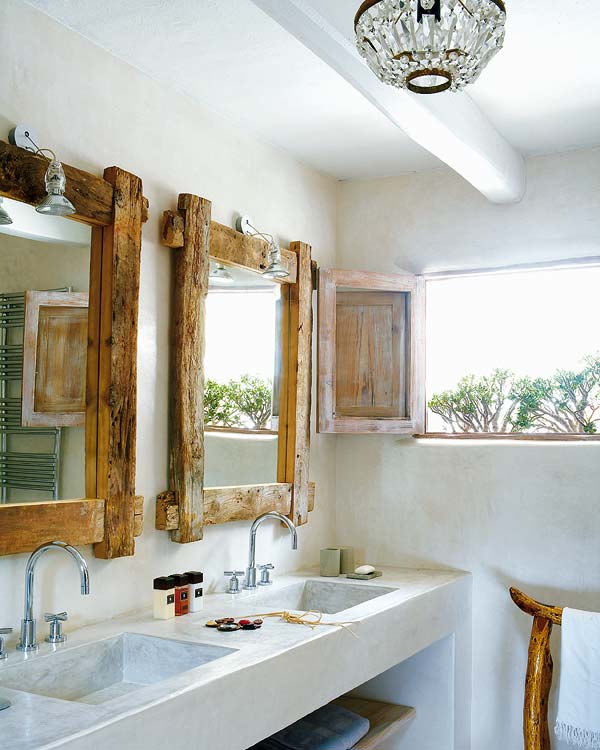 photos: nuevo estilo
Louis Kahn sagte… aus dem Film "Ein unmoralisches Angebot" (1993) – eine meiner Lieblings-Filmszenen.  Um sie zu sehen, klick einfach auf das Foto unten. Schönes Wochenende!
Louis Kahn said: "Even a brick wants to be something" – one of my favorite movie scenes …from "Indecent Proposal" (1993). You can click on the photo below to see it. Have a wonderful weekend!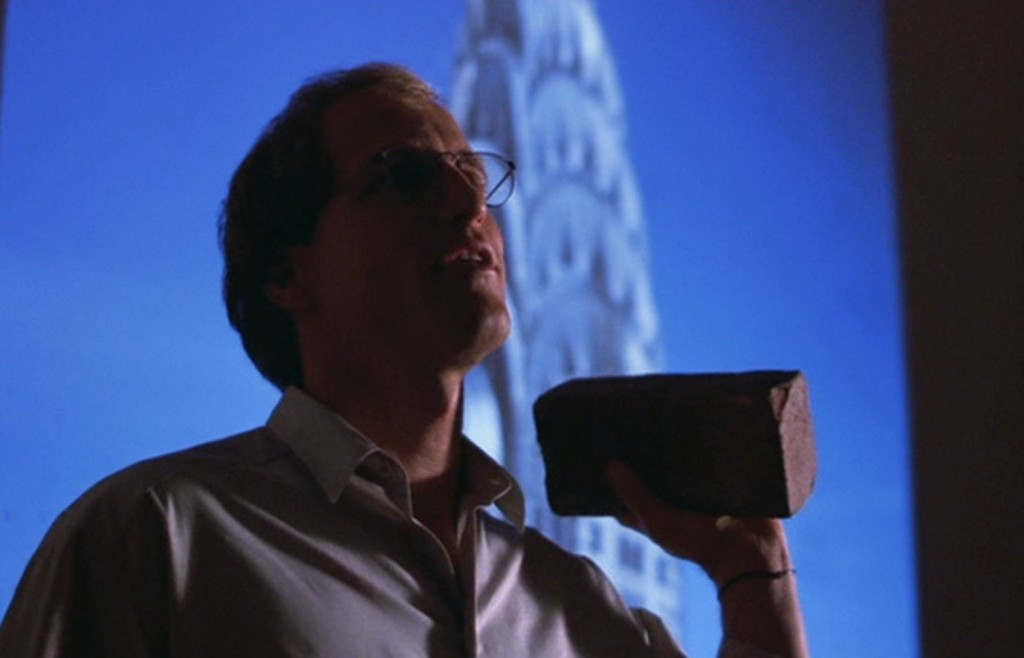 "A space should support you. Everything you choose to surround yourself with, carries a vibration that affects you daily. Balance and harmony in your home will mirror itself in an abundant life."
Some weeks ago I discovered the work of Andrew Galuppi. I not only love his aesthetic but two thirds of his twitter bio could be my own: "designer and free thinker, consumed by wanderlust." Andrew Galuppi was born in Maryland and spent a good deal of his childhood in Italy. He attended the University of Maryland and graduated with a degree in Political Science and French, and the University of Nantes, France where he studied French history and literature. Moving to New York after completing his studies, Andrew began a career in fashion at Calvin Klein. In 1998 he joined Oscar de la Renta and eventually became director of PR and then moved into licensing & design. In 2004, Andrew Galuppi opened his own design company and today lives in Brooklyn. I hope you enjoy the interview as much as I did. Andrew's answers (especially to my last questions) inspired me…
photo: William Waldron for Elle Decor, design: Andrew Galuppi
How would you describe your own style?
modern eclectic.
You have a degree in Political Science and French. How did you decide to become a designer?
I was working in fashion and I often decorated as a hobby.  I was having fun and people started to actually hire me to work on their spaces. When I look back at my childhood I was constantly moving my room around driving my parents crazy.
Is there a designer that has influenced you?
David Hicks. I came across a book of his as a kid and it became a bible of sorts.
photo: William Waldron for Elle Decor, design: Andrew Galuppi
Do you have a favorite period of for furniture and interior design?
No, I like to mix all periods. I think the juxtaposition of different periods/times is exciting.
What do you enjoy most in your work?
Gaining a client's trust and seeing people live and flourish in a finished environment.
What is your idea what the perfect home should feel like?
An extension of you. It should recharge you and make you want to come home at night.
photo: William Waldron for Elle Decor, design: Andrew Galuppi
What does success mean to you?
Surrounding yourself with people you love and enjoying every moment.
What does freedom mean to you?
The ability to travel to distant places when you want to.
How do you understand Picasso's quote "Art is a lie that makes us realize the truth"?
Art is a truth that the artist sees: the lie…  it may stir something in us that reveals: the truth.
photo: William Waldron for Elle Decor, design: Andrew Galuppi
What are your favorite books?
The Impressionist by Hari Kunzru, Out of Africa by Isak Dinesen and anything by Paul Bowles.
You traveled recently to India and Sri Lanka. What surprised you the most there?
Every time I arrive in India it's like my first time… the feeling of adventure and the magic that anything can happen at anytime. People with nothing that are ready to give you everything.
The treasures that you found there…
The curiosity of the everyday person on the street, the local that wants to show you his secrets, the never ending smiles, and finally: color.. color everywhere!
What are for you the keys to a happy and meaningful life?
To be able to slow down & listen. To observe yourself at every moment. To do work from the heart. To love and be loved… and keeping busy!
Diese kleine Wohnung zieht meine Augen magisch an. Design: Paloma Martínez Gil
This small apartment is catching my eye today. Design: Paloma Martínez Gil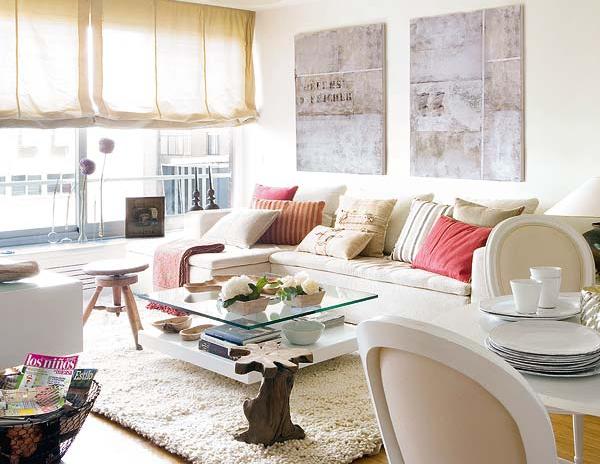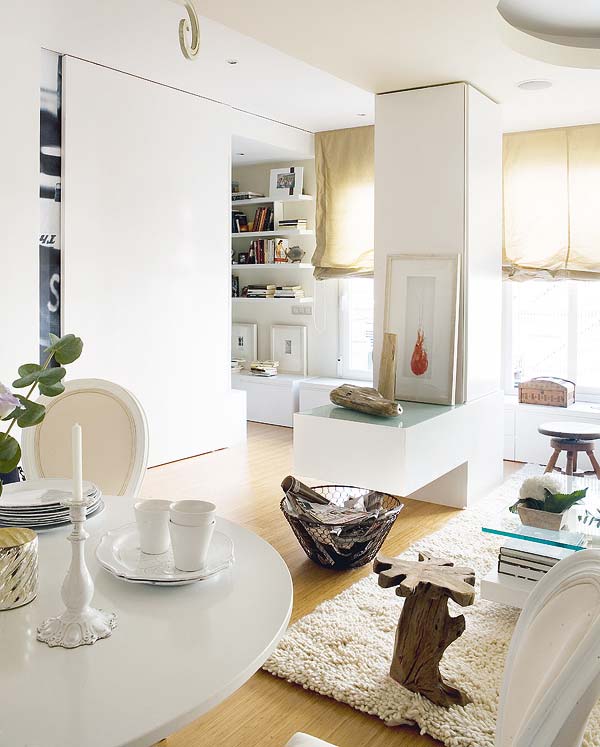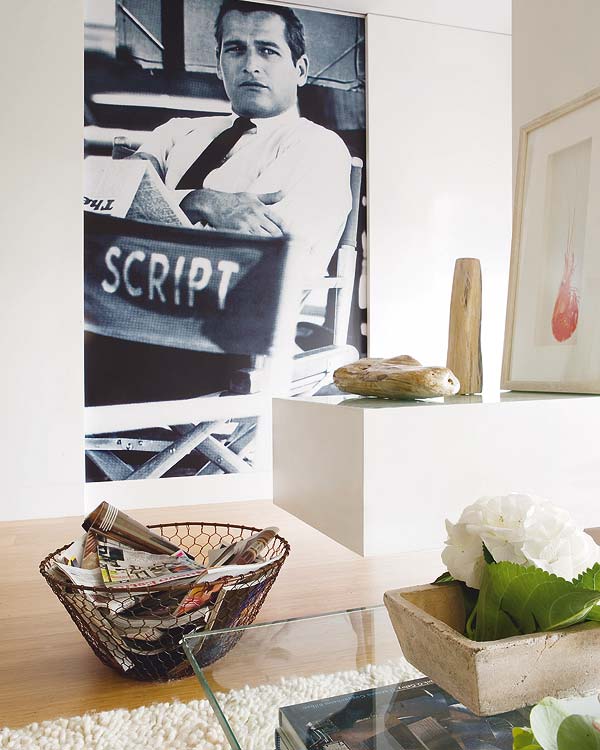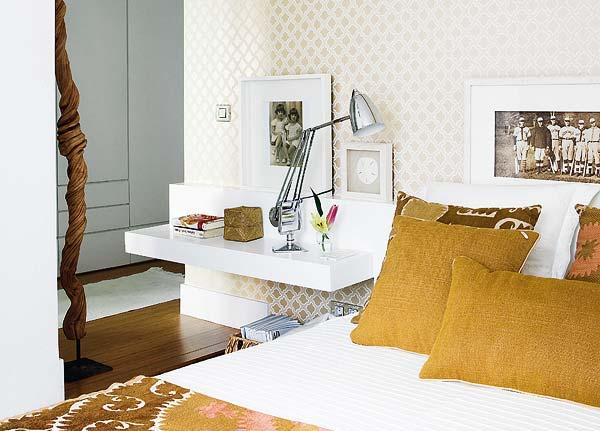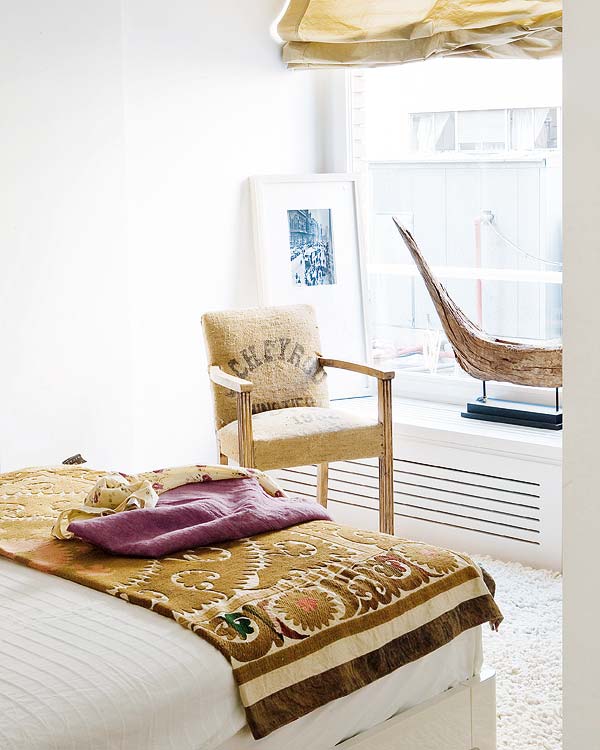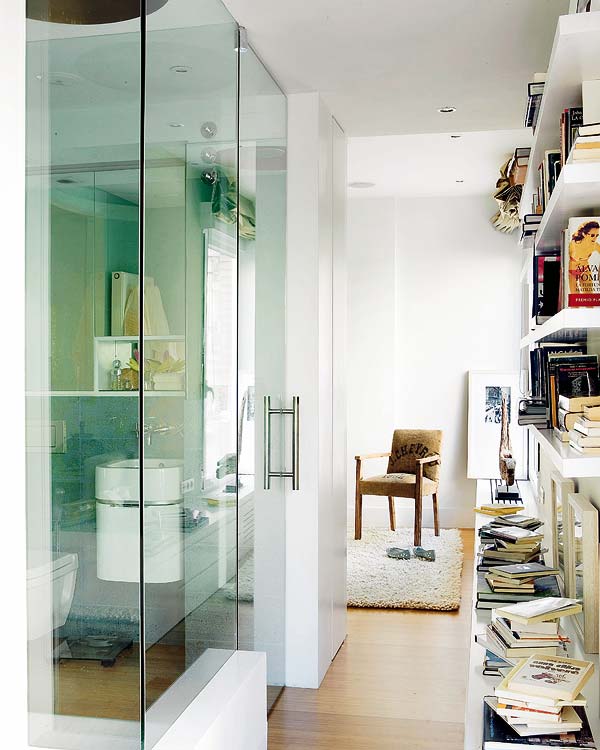 photos: mi casa revista
"A color scheme can come from anywhere. Forget fanning trough hundreds of color chips on a paint wand, wondering "Do I like this or that?" It is confusing and much too analytical. Instead, look at the ocean or a grove of trees. I have started with a chip of cerulean blue paint from the hallway of the Quisisana hotel in Capri, a fragment of silk from Thailand, a scrap of paper found on a street in NY. It will always be something that sets off a strong emotional reaction, something that pulls me in. Absorb everything in your environment. Put yourself in places that open up your senses. Creativity comes from a place deep inside you. Follow your instincts, and you will find what you need."
Vicente Wolf , "Learning to see"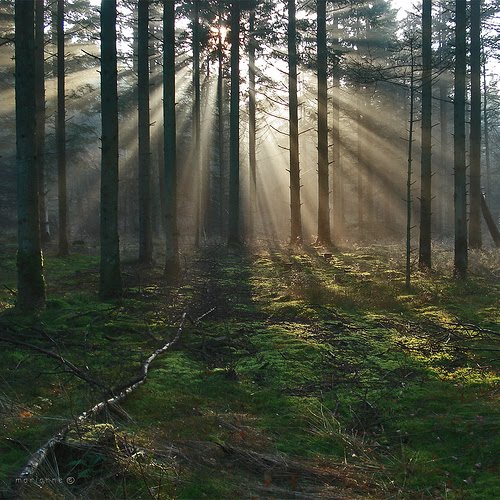 a grove of trees via splendid willow

"There is great beauty in simplicity. It is the truest measure of good design. "
Today in the spotlight: Thomas Pheasant - one of the worlds top 100 architects and interior designers by Architectural Digest and winner of the Andrew Martin International Designer of the Year Award. Classic, simple, luxurious, with a strong connection to classical architecture… all are words that come to mind when asked about Thomas Pheasant's designs. Interesting to know: his love for interior design began in third grade while on a school field trip…
How would you describe your own style?
Classically based, modern and serene.
How did you decide to become a designer?
The first time I was aware of interior space happened when I was in third grade while on a school field trip. I was standing in the rotunda of the National Gallery in Washington DC looking up at the grand dome thinking, "I could live here". My fascination with buildings and grand classical spaces started that day. I began my college studies in architecture and moved into interiors.
How did you get your first assignment?
I was working as a design assistant for a residential firm in Georgetown when I was approached by one of the firm's clients. They had a friend who was looking for a young designer and thought I would be a perfect choice. I decided to leave the firm and see if I could make it on my own. That was in 1980.
Is there a designer that has influenced you?
Many designers inspire me. Certainly many designers from the past especially those working in the mid century. Designers such as Arbus, Frank, Ponti and Quinet have all brought inspiration into my work.  I have great respect for a number of current designers who have evolved their vocabulary into a recognizable style. For some it is branding and for others it is just their thoughtful eye that can be seen within their interiors.
Are great designers born or made?
I feel great designers are born with a special creative gene. It is something that lifts their work above the crowd.  There are certain instincts that cannot be taught. I do think time and experience are needed to hone the skill of designing no matter how much creative talent you are born with.
What do you enjoy most in your work?
The trust and design freedom my clients give me. I am very lucky to have the opportunity to work with a very diverse clientle. Our current projects are in Los Angeles, New York, Southampton, Paris, Moscow and Singapore. When I began my career I never dreamed I would have the opportunities I have now.
Which project have you been most proud of?
That is a tough question. Certainly my Paris apartment and my residence in Washington DC have been a source of pride. In my Washington home, I am surrounded by not only the architectural spaces I created but, other than the art and a few antiques, I have designed all the furnishings. I have pieces I designed over the last 15 years. Although this is not how I typically design interiors for my clients, it is interesting  to see how well my pieces all live together. Each piece has a story or a connection to an event or person. It is a little like having my own personal retrospective.
Please tell us more about your beautiful house near Washington D.C.
I purchased the house in 2007. I gutted the interior, opened up rooms to view the gardens and treated myself to many of the luxuries my clients enjoy. It took two years to complete the renovation. The house has fantastic light and the property feels like I am miles from the city yet I am only 5 minutes from my Georgetown office. I believe it reflects my love for serentity and my interest in modern classical ideas.
What do you consider to be your greatest achievement?
Having my work appreciated by editors and the recognition I have achieved professionally. In 1997, I received the Andrew Martin International Designer of the Year Award in London.  It was  a wonderful moment for me personally.
What inspires your creativity?
Inspiration comes from everywhere.  The most obvious source would be travel. I just returned from Bali and my mind has been overwhelmed by the beauty of its people and the artisans I met. It will be interesting to see how these impressions will take form in my work.
What's the most commonly mistake that people make when decorating their home?
Not taking time to address the architectural background of their home before filling it with furniture.  No matter what the scale of any project I take on, I always focus, initially, on building a great space before I think about the furniture. I believe a beautiful space that is lightly furnished always beats a bland space that is overly decorated to hide its flaws.
What is your idea what a beautiful home should feel like?
Its easy to create a pretty space but a home should reflect the spirit of its owners. As an interior designer, it is a vital part of my job to bring the clients personalities into the space. The more a client identifies themselves with their home, the more their comfort is felt by those they share it with.  It's not about perfection, it's about personality.
Your favorite books?
My home library is filled with books on design, art and travel. I am a big consumer of beautiful books. I spend a lot of time on planes so I always carry a few books to pass the time. As for what I am reading now, "Provenance"(Laney Salisbury) and "Sarah's Key"(Tatiana de Rosnay).
Your top travel tip is…
Make the time to travel. Try to visit one new place each year. It is amazing the affect this will have on you personally and creatively. My tip: "Travel light and  bring Tylenol PM".
What does success mean to you?
I think this answer changes at different stages of a career. Right now, I am very happy to have  captured an audience for my work that enables me to keep evolving as a designer. The fact that I get paid to do something that I love is amazing. What could be better than that?
What's your advice to upcoming designers?
There are so many roads you can take within the design profession. I think it is important to think about what it is you want to do and focus on creating your own path. Each one of us brings something unique to our work. It is key to understand yourself and build your own vocabulary. It is easy to stray into trends and it is difficult to keep your creative voice clear.
My signature Design Elements question – what are the most important design elements?
Balance, simplicity, proportion and texture are four elements vital to my process.
photos: Thomas Pheasant
Ein minimalistisches Haus in Costa Rica errichtet auf einer Hügelkuppe. Strukturen aus Stahl, Beton und viel Glass. Design: Victor Cañas - Architekt und Ex-Diplomat. Ich wünsche Euch allen eine schöne, kreative neue Woche!
A house in Costa Rica designed by Victor Cañas – architect and former diplomat. Situated in a long narrow field overlooking the sea and volcanoes in the distance. Made by concrete, steel and lots of glass. I wish you a fun, productive and creative week!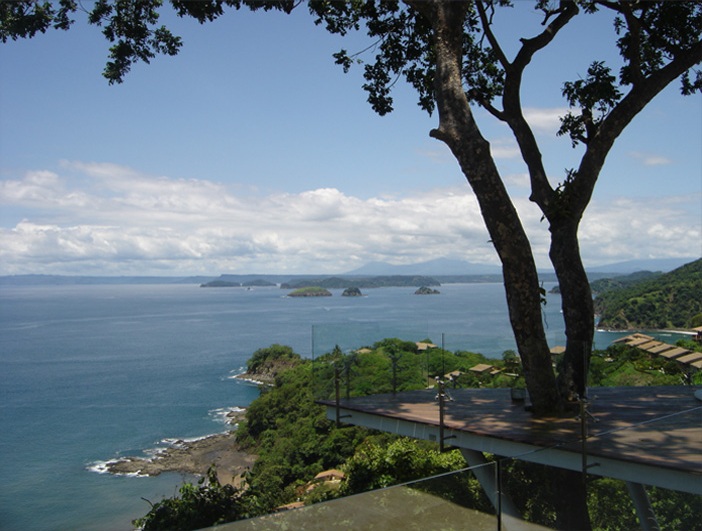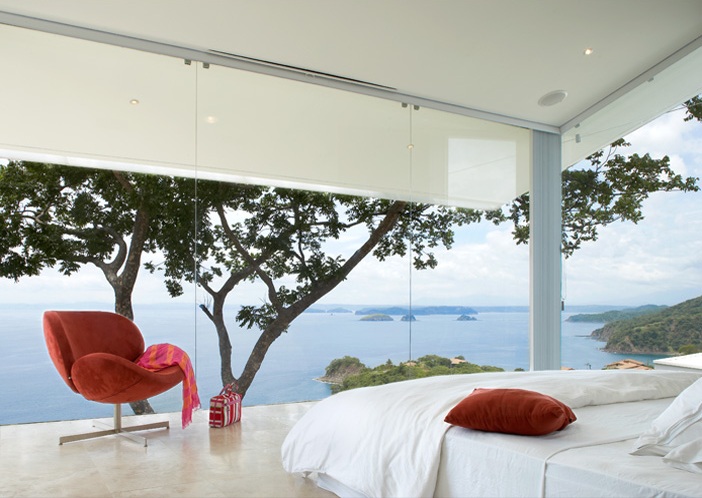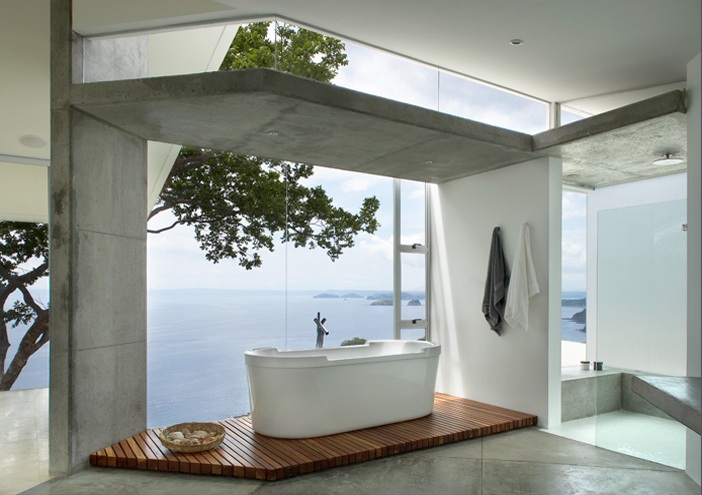 photos: Cañas Arquitectos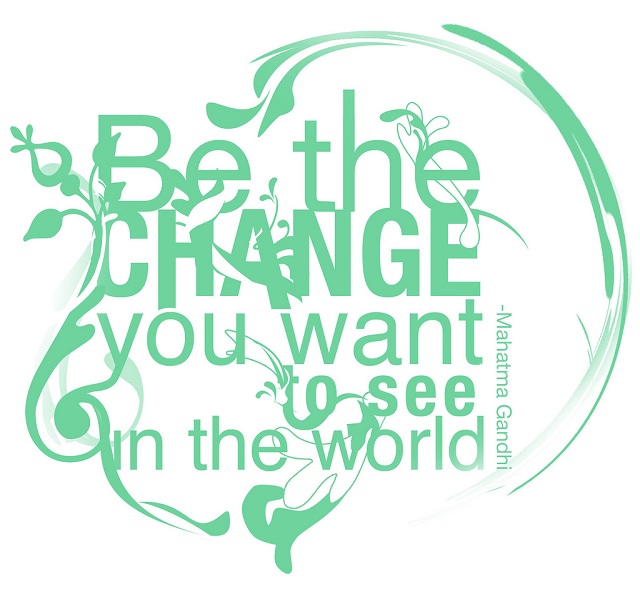 "Urban environments need to connect with nature."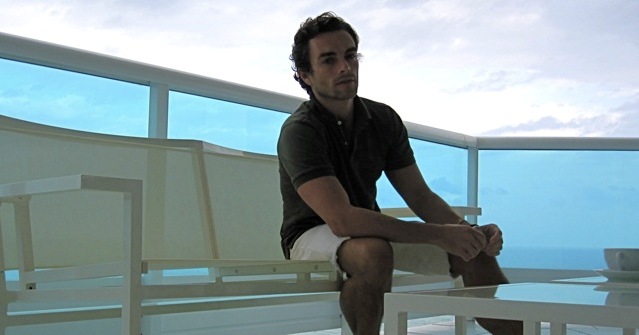 Vor einigen Tagen habe ich die Arbeit von Andrew Galuppi entdeckt. Die Fotos sprechen für sich…
Some days ago I discovered the work of Andrew Galuppi. I let his designs speak for themselves…
photo: William Waldron for Elle Decor, design: Andrew Galuppi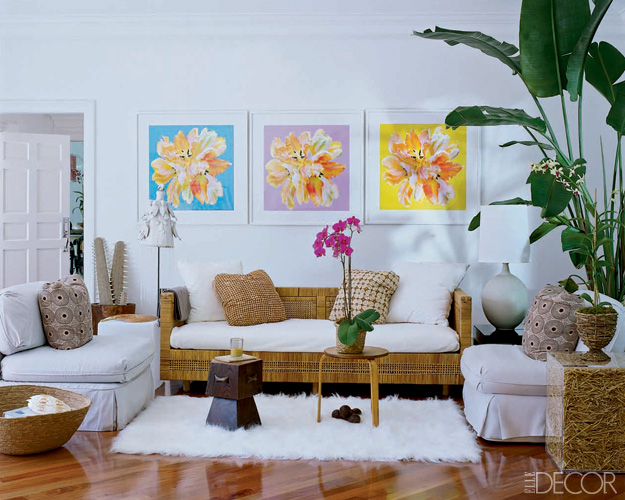 photo: William Waldron for Elle Decor, design: Andrew Galuppi