"There was a period in my life when I did not have a clue about who or what I wanted to be. I was completely disconnected from whatever talents I might have had. I was fortunate enough to meet Bob Patino, an interior designer who became a mentor to me. Very quickly, I found a direction and a career.
I immersed myself in work, and the years flew by. I was continually looking for the next job, the next challenge. The one constant in my schedule was an annual trip. Every December I visited some exotic destination. This was adventure travel, and it usually did not involve luxury hotels or pampering. The point was to get closer to another culture.
One year I was in Himalaya, hiking through a rhododendron forest along the border between Sikkim and Nepal. The views were incredible, but the mountan path was more suited to goats than to people. It was a perpetual zigzag – climbing up, flattering out, then climbing up again. I was looking at the steep incline coming up and thinking about how I hate going uphill. When was it going to be lunchtime? How much farther did we have to go before it would be over? Why was I here?
All of a sudden a light bulb went off in my head. Wait a minute. I'm walking on the flat part now, and it's actually kind of pleasant. The clouds just parted, the sun came out, and I can feel the warmth on my skin. Why don't I enjoy it, instead of worrying about what's up ahead?
The future will always be just out of reach. You'll get there eventually, and it may not be as bad as you think. But in the meantime, don't miss the here and now. Live in the moment. That's what's important. What I'm doing today? How can I use my energies?
I don't pretend to have absorbed this message completely, but I'm trying. There is always a before and an after; but the point is to be present and aware for all the moments in between."
Vicente Wolf, "Lifting the Curtain on Design"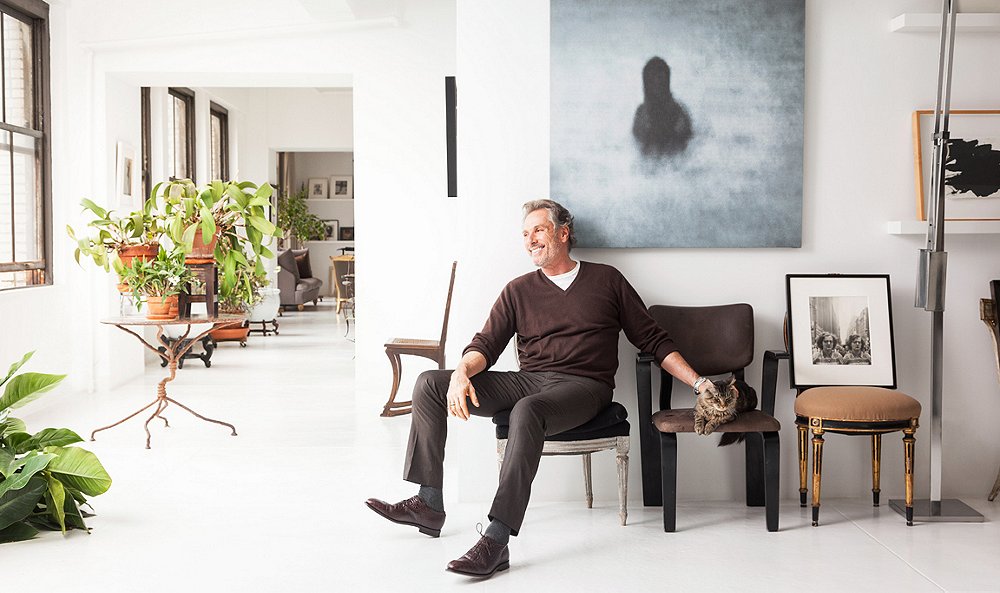 I can barely contain my enthusiasm for the work of Vicente Wolf – a legend on the design scene with a magnificent portfolio, author, lecturer, photograph, world traveler, and art aficionado. His work is like no one else's. Sophisticated, elegant, and comfortable combination of "strength and sensuality". I've read almost every design book that was published in the last 20 years. Among my top 5 favorites are "Learning to See", "Lifting the Curtain on Design", and "The Four Elements of Design" – all written by Vicente Wolf. Recently I had the great pleasure to have a cyber sit down with the New York designer. So, pour yourself a cup of coffee, sit back and enjoy the conversation. I sure did.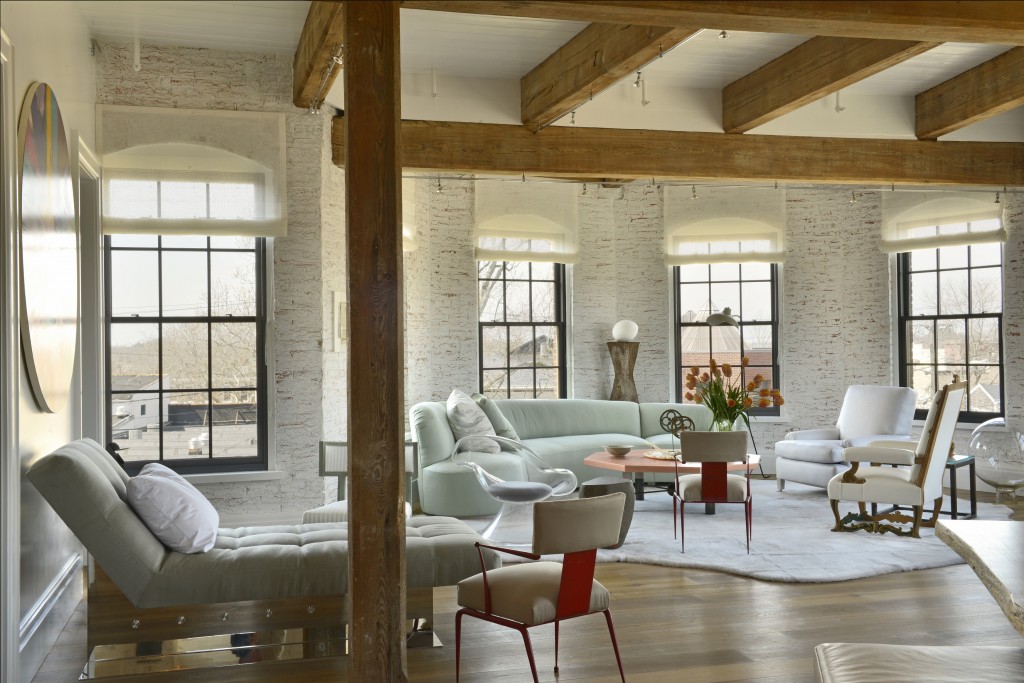 What does a happy day in the life of Vicente Wolf look like?
Presenting a job that I'm very proud of and having the client feel the same. I love gardening and if it's an extraordinary day, I'm getting on a plane to some exotic place.

Do you have a daily routine?
Absolutely:
Get up at 5:30 – run, do sit ups, feed the fish and the cat.
7:30 Meditate for a half hour, get ready to go to the office.
8:45 Go thru emails and messages, flip through the NYT and greet the staff as they come in.
9:15 Work begins: Put finishing touches on spaces, offer my design concepts for others, Google around for that perfect chair, instruct the intern on his way to the D+D for fabric samples, etc.
11:00 Jump next door to my showroom, VW Home, to review the new shipment of inlaid pieces that just came in from Bangkok.  Work with showroom manager Trudi Romeo on reorganizing the displays.
12:00 Go over photos to determine which we should post on social media.
12:45  Return messages.
1:00  Have my cantaloupe and cottage cheese lunch.
1:30 Walk around to each of the designers for updates and to weigh in on the projects they are working on.
2:30 Move into my marketing director's office to go over various items: contest judging requests, media outreach, PowerPoint presentation for upcoming speaking engagement and respond to editors' questions.
3:30  Perhaps join the team listening to a product rep in the conference room, dash over to a job site, respond to designers' questions regarding projects, Skype with client, etc.
5:30 Head home to meet my trainer for yet another workout.
5:45 Prepare a healthy and delicious dinner and get ready for the theater.
10:45 Go to bed.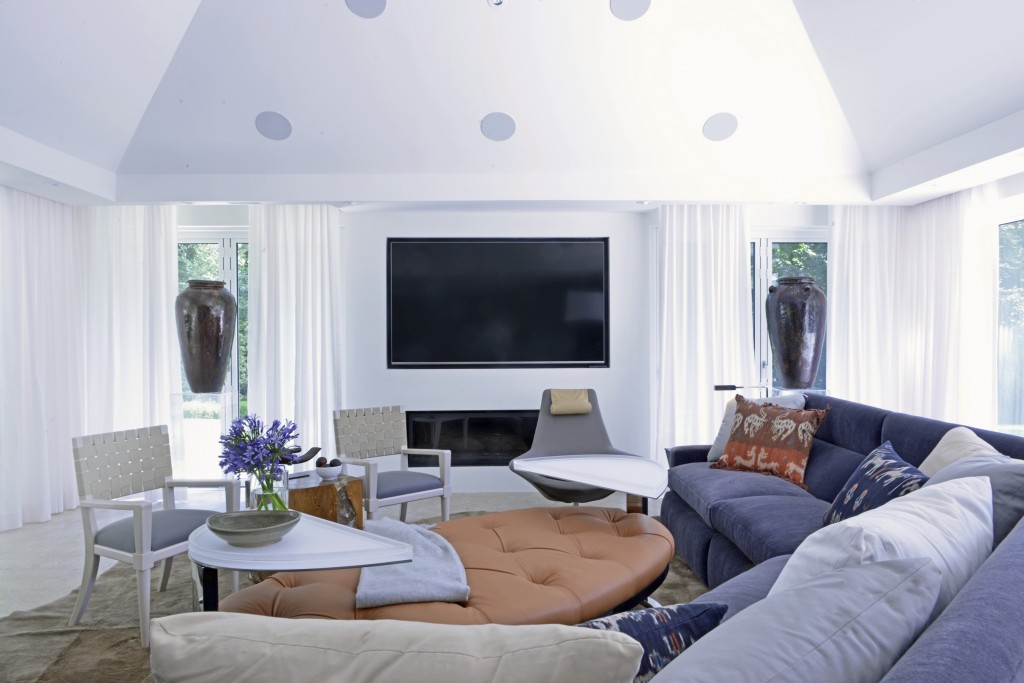 When did you first discover your love of interior design?
In the 1970's.

Looking back at your first project, what design knowledge do you wish you had back then?
The resources to create custom furnishings instead of purchasing from the showrooms.

What interior design moves you most?
Designing spaces with wonderful natural lighting.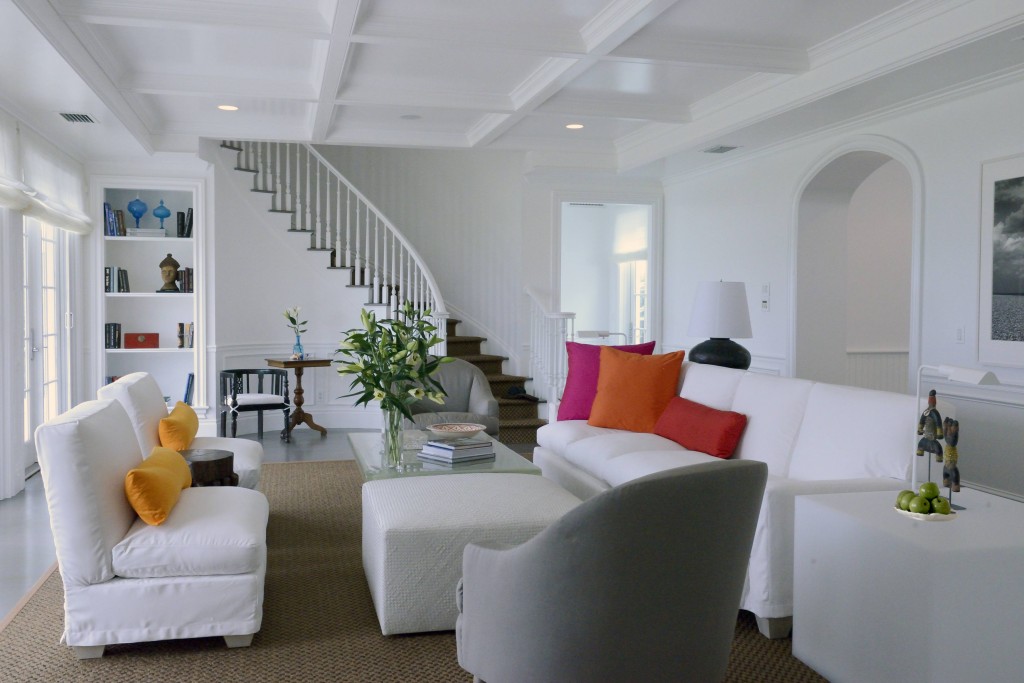 When designing your home, what was your first source of inspiration?
For my home in Montauk, it was the ocean, without a doubt.

What is your best advice on color?
To use mercurial colors that change as the day progresses.

What do you suggest people to transform their homes?
Work from floor plans and complete the plan before beginning work. You must have a total vision of the space before starting.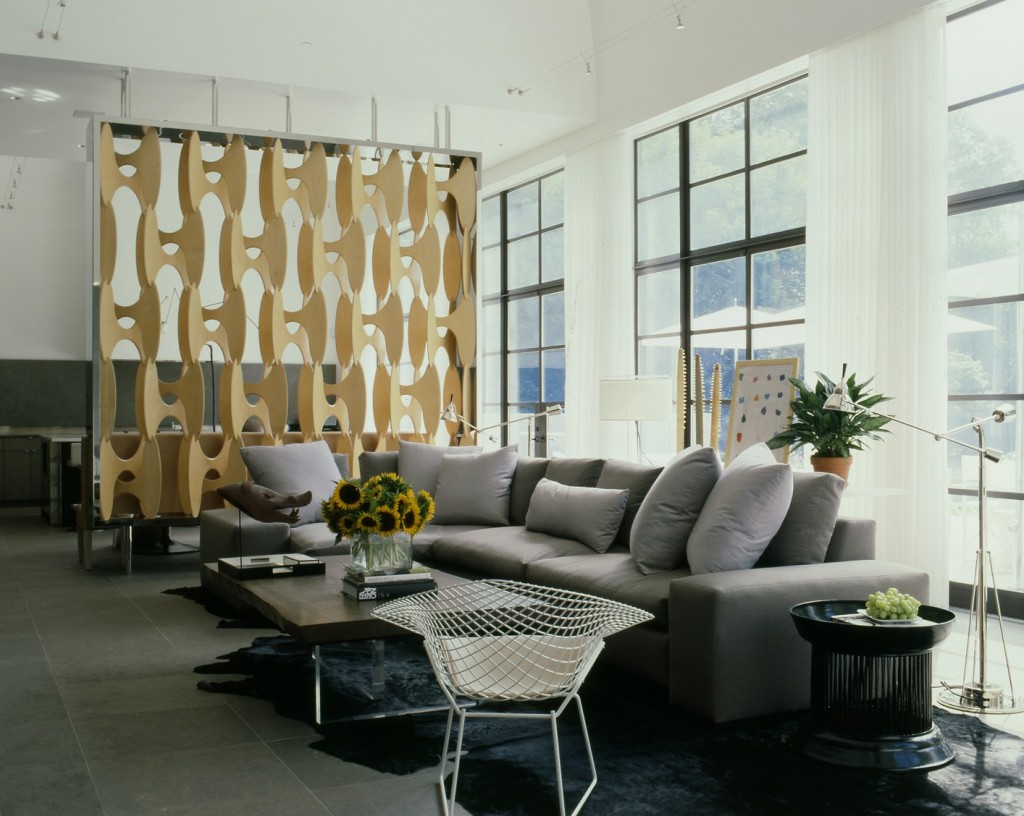 If you had no limits, what would be your dream project?
One where the client is clear about what they want and then gives me the freedom to let me design one step beyond their expectations.  When they trust me, they are always very happy with the result.

What do you love to do when you aren't designing?
Being in the garden, traveling, cooking.

What are your favorite books?
Biographies; getting a glimpse into the lives of successful people is a marvelous source of personal growth.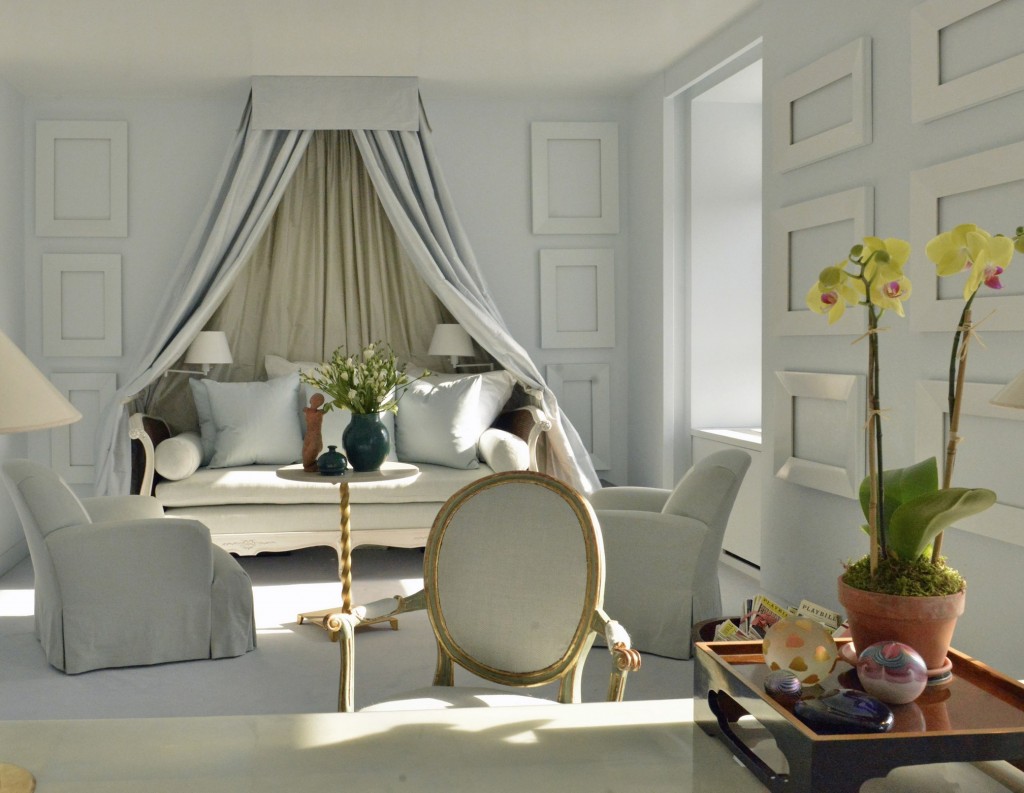 What does success mean to you?
Having my work that brings me much joy and enjoying my life.

Imagine you're teaching a class in the school of life. What would be your tips?
Even if it's a horrible day, you'll always come out ahead if you put your integrity first and never compromise. Be a professional in your work and never forget that you MUST learn how to be a business person first and a creative person second.
Photos: Vicente Wolf
"The biggest mistake is not to create with the heart."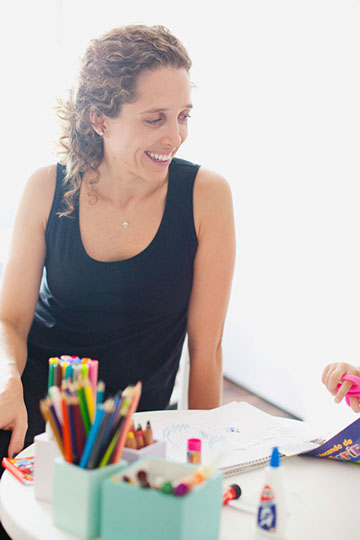 It's time for an inspirational interview again. Please come with me to São Paulo to meet architect and interior designer Julliana Camargo and to enjoy Julliana's bold, warm and inviting interiors.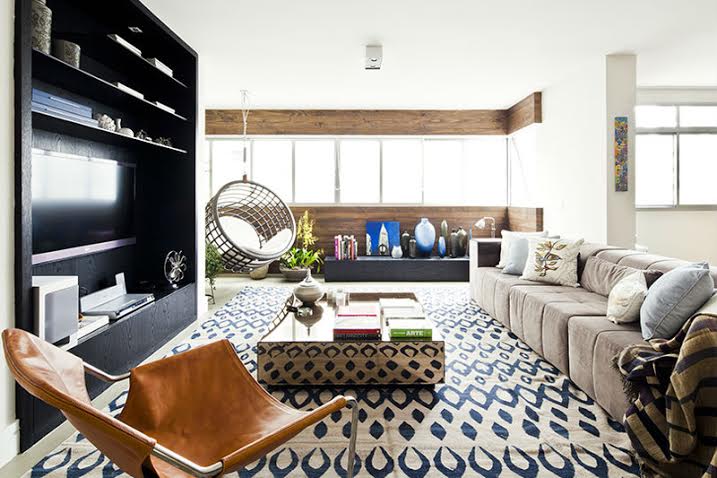 What does a happy day in the life of Julianna Camargo look like?
A happy day in my life starts with my family. I'm married and I have two girls, Maria who is 5 years old and Luisa who is 8 months. After taking care of my kids and enjoying this morning moment, I love running.  Every day I can I go run. Those simple things make me happy.

Do you have a daily routine?
I don't have a routine in my job. Every day is different. Sometimes I go early in the morning to the studio and sometimes I like to go around in the city to discouver new things, make contacts. I love to feel the city, to feel the people… São Paulo is an amazing city but my job happens in the studio, so I love to stay there and see everythig happening , I love to participate in all my projects from the begining till the end.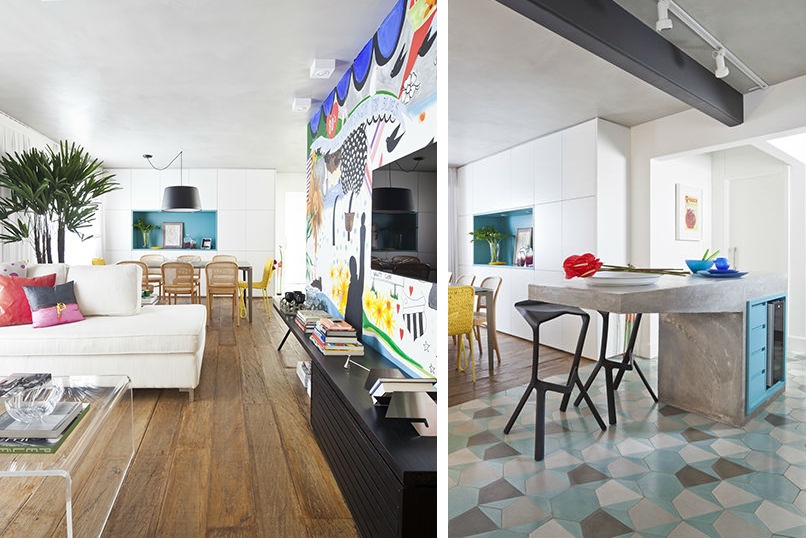 When did you discover your love of interior design?
My family loves to travel… Since I was a like 10 years old, my father and my mother used to travel first around Brasil and then to Europe and the US… So I learned to apreciate good things in life, not just architecture, but to eat, drink, live …  I love arts and fashion too….

How did you get your first assignment?
When I just graduade from the university, I had a friend that asked me to do a project for her house. She wanted professinal work and pay me very well. Perfect for a first job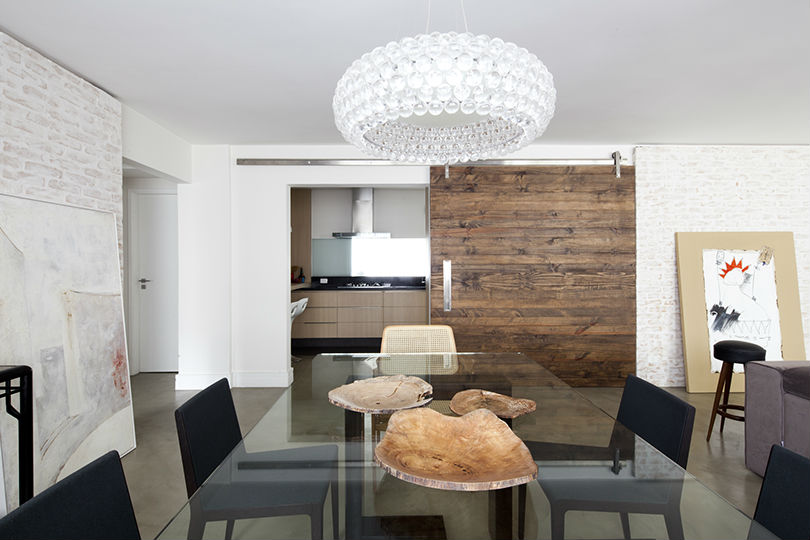 Some designers believe that the first piece for any room is the rug or a painting that sets the color palette. What is your first source of inspiration?
I think that I am infuenced by my feelings and emotions in the particular moment… If I am interest in Brazilian art, something in my project will have Brazilian art… I hear all my client's desires and I mixed them with a little bit of colour…

How do you achieve a good scale? Scale is a really interesting and difficult topic.
Studying the elements and the space … It's very important to visit the place you are working on several times in different times.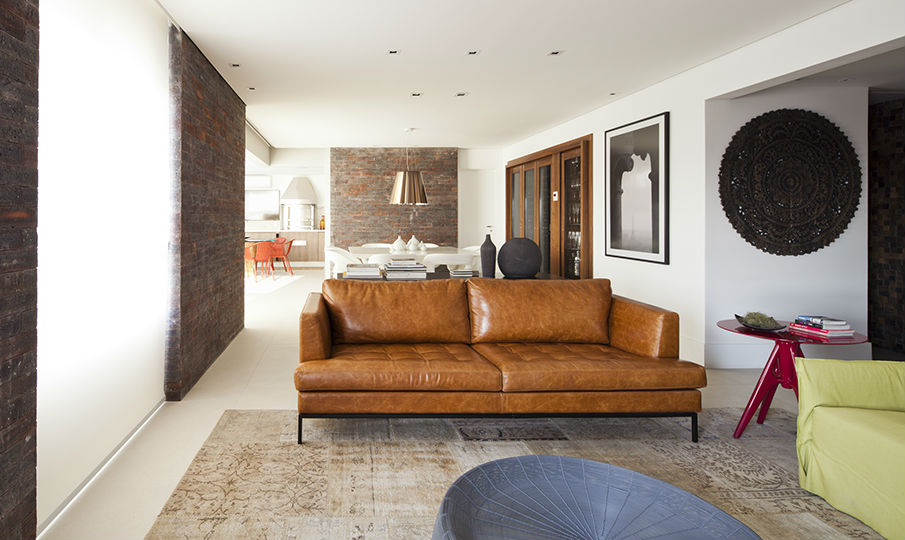 What is the biggest decorating mistake people make?
I think the biggest mistake is not to create with the heart. And sometimes a see a lot of repetition around… Why do your house have to be the same as your neighbor's?

What do you suggest people do to transform their homes?
First of all, I suggest to contract a professinal to help. Let the professional work and if you don't like it, ask for change. I think, this works well because you are going to have differents ideas and mixed them with your taste and your feelings will help you to complete a great project.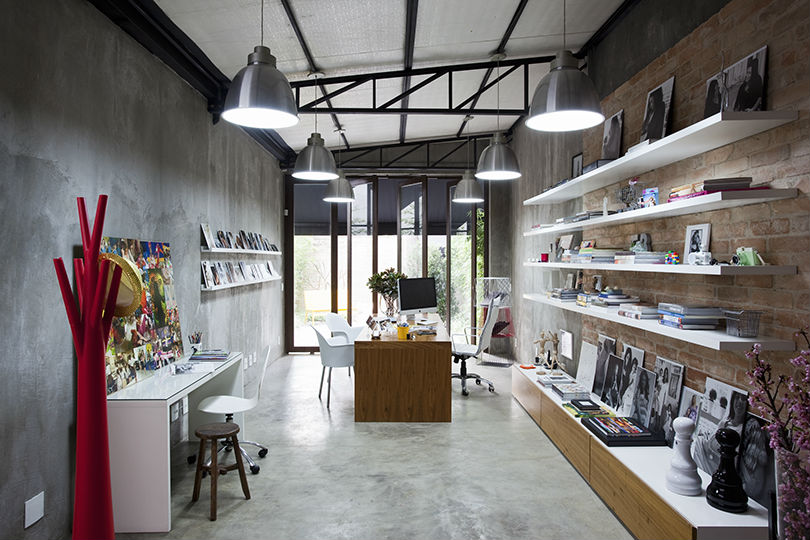 What do you love to do when you aren't designing?
I love, love, love: Be with my family. Travel. Visiting a museum or an artist studio. I really love walking in the city. In São Paulo sometimes you have to make an effort to walk. I love running.  My husband is a triathete and he is my inspiration to keep running.

What are your favorite books?
I love all the books from Chico Buarque.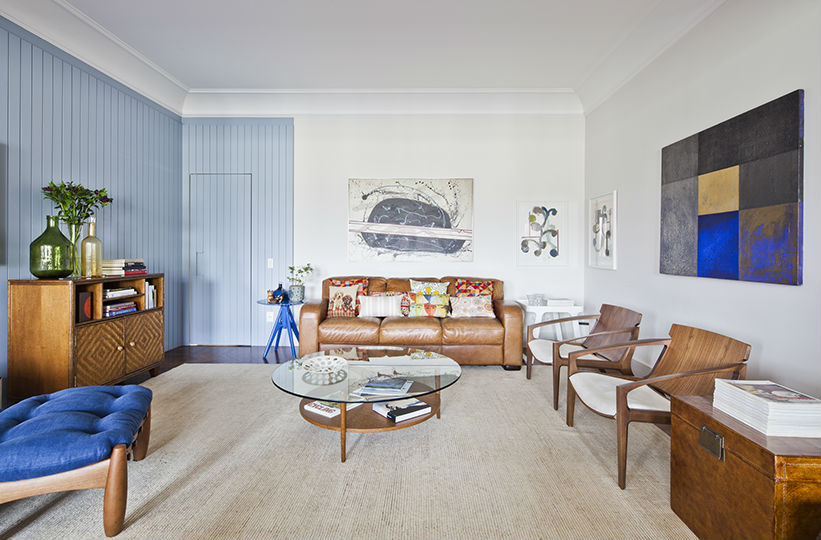 Do you have a favorite movie?
All movies about love.
What are your favorite places in Brazil?
Trancoso, Praia do Espelho, Ilha Bela.

What does success mean to you?
Do what you love and never stop doing it.

Imagine you're teaching a class in the school of life. What would be your tips?
Feel everythig… Taste, smell, touch, hearing, see… Imagine differents forms. Find happiness. Believe.
photos: Julliana Camargo
"It starts with one person's imagination…"
Recently I had a cyber sit down with Dickie Bannenberg – managing director of Bannenberg & Rowell – the superyacht design company with a magnificent portfolio of more than 200 mega yachts founded by his father Jon in the beginning of the 60's. "Before Bannenberg, yacht design did not really exist as a distinct occupation. Naval architects designed what they hoped were efficient and good-looking hulls and left the shipyard to complete the interior." Do you hear the waves and smell the sea water coming from your desktop? Enjoy!
How did you first get in touch with yacht design?
Growing up with my father meant that I was aware of yachts and the world of design from a very early age. My parents would take me to shipyards, launches and sometimes on board a friend's yacht. My dad would often work in his study at home so I would see him at his drawing board. I only actually joined my father's firm in the late 1980s.
You attended the best "yacht design school" in the world – The Jon Bannenberg school. How had your father Jon influenced you?
My father's enthusiasm and drive was very powerful. I can't pretend to be just like him (no one will ever be) but I hope I have some of his qualities. He never let anyone forget that no one actually needs a yacht and that we are all only in business thanks to people making these huge investments. So the process of building a yacht has got to be not only pain-free but something hugely exciting for the yacht owner. My dad got on with everyone. I hope I am the same in that respect.
How does a world-leading designer go about creating the marvels we see on the water?
Well, we take a brief from the client and go from there. Sometimes that brief is clear and detailed. Sometimes there's hardly anything to go on. Either way, you've got to create an identity from which to build on.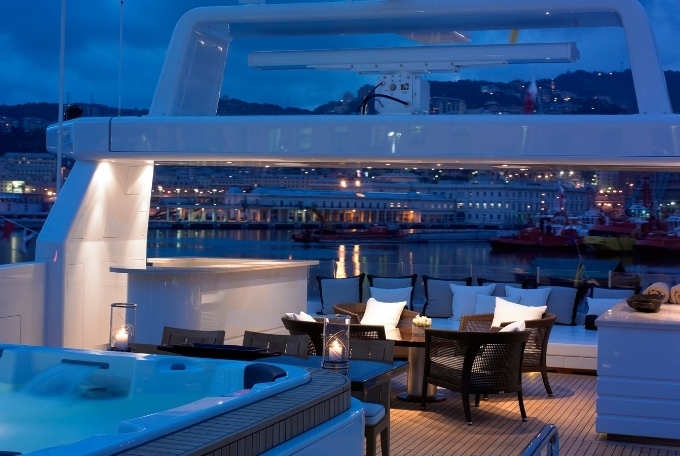 What are the biggest challenges in yacht interior design?
I think they are related to your earlier question: it still amazes me the number of times we have someone – client, broker, shipyard – talk about modern classic, or classic modern. What does this mean? It's a incredibly elastic definition of style which is actually useless. But it is often trotted out and the hard bit is not only to try and ascertain what is actually meant, but also to make sure that it doesn't also mean some kind of ultra-safe middle ground where there are no risks and no excitement. All other challenges – technical, regulatory and budgetary can be overcome, some with more pain and stress than others!
The SuperYacht World chose 9 Bannenberg yachts including the outright winner in the "50 Most Beautiful Yachts Ever". What do you consider to be your greatest achievement?
The SuperYacht world list was in relation to exteriors so all are, by definition, my Dad's. I still think Carinthia VI (now The One) was fantastically ground-breaking. I hesitate to use the word iconic now as it has become rather overused. When she appeared, it was with the same sense of shock and awe as perhaps Rising Sun did before my father died. She was truly radical yet now is regarded with great affection as a subtle and elegant yacht. But I think the sheer variety of designs, all recognisably off the Bannenberg drawing board, were his greatest achievement.
What do you love to do when you are not designing?
I have my wonderful wife and two kids aged 18 and 15. So life revolves around them. Remaining time is split between rowing for my club (Tideway Scullers School) in all types of boat and trying to improve my saxophone playing.
What are your favorite books?
I have a small stack of books in various stages of completion. I need a bit more discipline. Something on the History of the British Empire, a book about the Vietnam war, and half-way through a biography of Herbert von Karajan.
What would the yacht you would design for yourself looks like?
I wouldn't want anything big! I thought the 39m Feadship SL Kathleen Anne gave you everything you could possible want in terms of space. And I would want anti-bling. Anti-glitz. Set up for living in shorts and bare feet.
What are the most important yacht design elements?
Excitement, cohesion, elegance, identity, practicality.
photos: Bannenberg & Rowell Design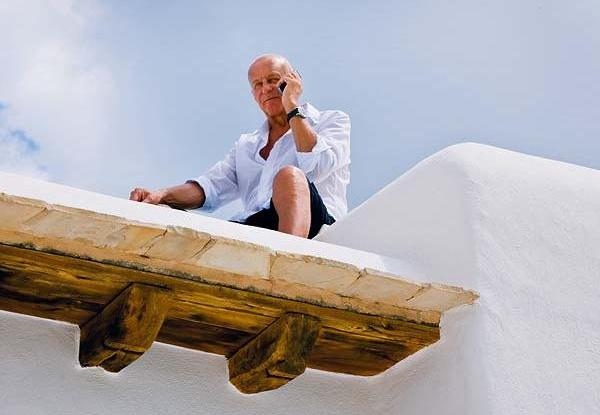 Peter Schmidt ist einer der bedeutendsten deutschen Designer. Er entwarf mehr als 100 Parfüm-Flakons, Verpackungen und Logos (u.a. Davidoff, Jil Sander, Boss, Lufthansa, Hamburgs neues Stadtwappen). "Die Funktion dient dem Design: Der Sinn der Dinge tritt in den Vordergrund. Ein neuer Weg. Zurückkehren. Den Wert des Wesentlichen neu entdecken." ist das Motto von Peter Schmidt.  Es ist in der Inneneinrichtung seines Hauses auf Ibiza wiederzuerkennen…
Peter Schmidt is one of the most influential German industrial and packaging designers. His perfume jars (Davidoff, Jil Sander, Boss) have turned into classics exhibited at the MoMA in New York. On the photos below is Peter Schmidt's minimalist home in Ibiza.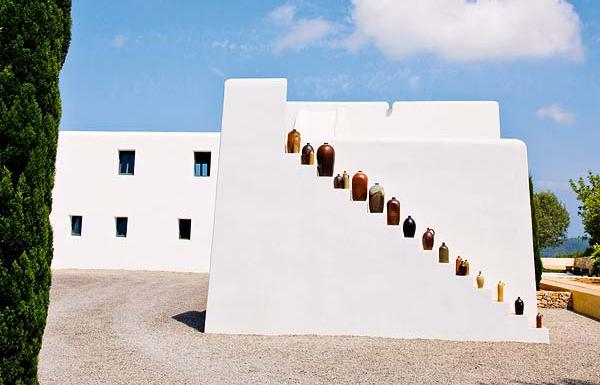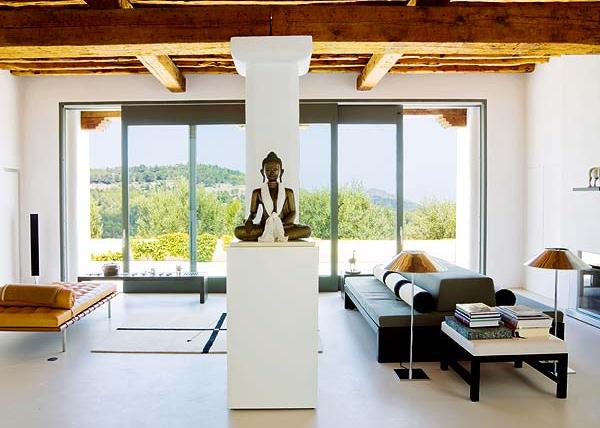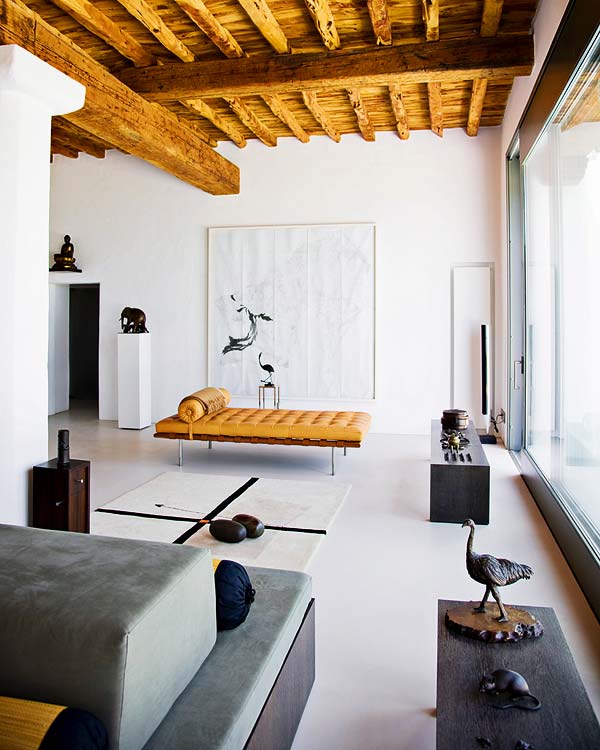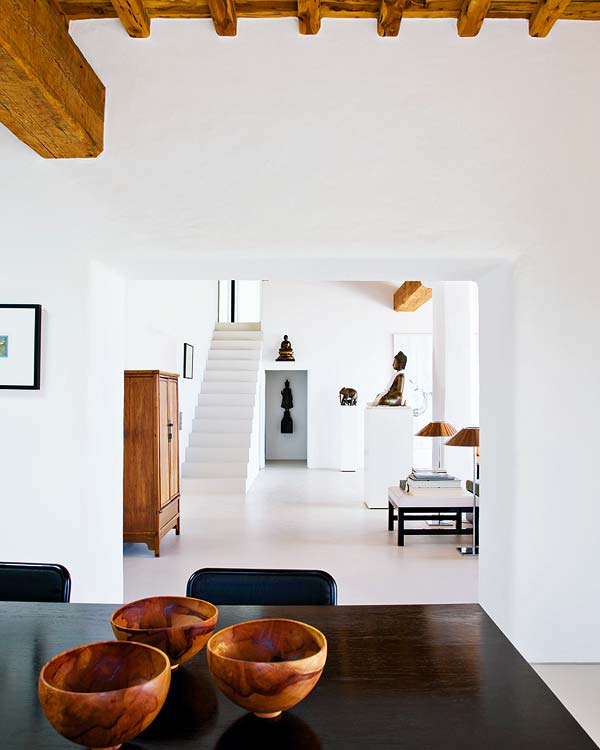 photos: nuevo estilo